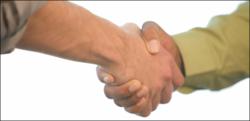 Renegotiating an existing fixed expense goes directly – 100% - to the bottom line
Ventura, CA (PRWEB) April 19, 2012
There are two fundamental ways to improve the bottom line. Increase revenue or decrease cost. "Renegotiating an existing fixed expense goes directly – 100% - to the bottom line," says Wade Horigan, Principal at Silent Partner Negotiators. He goes on to explain: "Renegotiation happens every day in our lives. It is the understanding between two parties to a contract that the original agreement is no longer viable."
"Struggling businesses that lease their commercial space need to go to their landlords with a comprehensive plan that includes a lease renegotiation," Horigan continues. "For many businesses, the lease is their largest monthly fixed expense." For business in a current lease with 24 months or less left, he suggests renegotiating with a "Blend and Extend." Blend and Extend is an industry term used for early renewal of leases combining renegotiation of a current lease in exchange for a longer term. It can be a winning situation for companies who would like to remain in their current location but need to reset the existing lease rate immediately to help compensate for the still sputtering economy. Blend and Extend can also be used to change other terms of the lease such as notice, maintenance, use and a variety of issues tenants realize after having been in the lease for some time already.
Property owners, particularly in less-urban areas of the country where vacancy rates are still at 25% or more, are very receptive to working with existing long-term tenants to blend and extend. It makes perfect sense – even though they give up a percentage of current income, they trade it for longevity. As owners know, there are high costs involved in vacancy. Not only is it a loss of all income for the space during vacant time, they also have the costs of marketing, potential new tenant improvements, broker commissions and the risks inherent with unknown new tenants.
Silent Partner Negotiators has been helping clients reduce their business lease costs through principled lease negotiation and renegotiation. They offer full-service, contingency-based existing and renewing lease renegotiation for qualified clients. They have also developed their techniques and put them into a low-cost, Professional Guide to Lease Renegotiation that includes 25 pages of lease renegotiation letter samples from actual, successful renegotiations.
For more information, please contact Wade Horigan directly at (805) 320-4801 or by email: wade(at)SilentPartnerNegotiators(dot)com. Website: http://www.SilentPartnerNegotiators.com. LinkedIn: N. Wade Horigan.