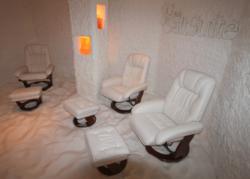 Delray Beach, FL (PRWEB) April 19, 2012
The Salt Suite provides Salt Therapy which is a 100% all natural form of treatment for skin and respiratory conditions. Customers sit in a comfortable leather reclining chair in a room full of Dead Sea Salt. The salt is on the walls, the floor and it's blown out into the air in a dry salt aerosol. During a typical 45 minute session the salt acts as a natural anti-inflammatory and anti-bacterial in the sinuses and lungs. The first session is complimentary, http://www.TheSaltSuite.com.
One of the conditions that Salt Therapy helps with is Cystic Fibrosis. Cystic Fibrosis is a life threatening disorder that affects about 30,000 children and adults across the US. It is one of the most commonly inherited deadly disorders in the country. Right now there is no cure for the disease. However, The Cystic Fibrosis foundation is working diligently to raise money and awareness. The Great Strides walk is their largest fund-raising event.
This is a great opportunity to gather friends and family to show support for a worthy cause. The Salt Suite is putting together a team of as many people possible who can walk at the event. We will also have a booth on hand where we will be auctioning off a free gift basket including free Salt Therapy sessions at The Salt Suite. The day of the walk is sure to be a fun, family-oriented day with plenty of food, music and entertainment!
The Cystic Fibrosis Foundation relies heavily on the attendance of supporters to events like this one. They are the leader in the search for a cure for Cystic Fibrosis. They provide the financial backing for the most amount of CF research than any other foundation in the country. Almost every CF drug on the market today was on account of the efforts made by the Foundation.
So, please contact us at The Salt Suite for more information (561) 316-7258. We would be honored to have you walk by our side!
To learn more about The Salt Suite you can visit our website http://www.TheSaltSuite.com.
Elliot Helmer, Owner
561-316-7258
Elliot(at)thesaltsuite(dot)com