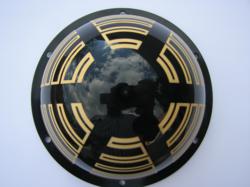 Palatine, IL (PRWEB) April 24, 2012
SelectConnect Technologies, the USA's only contract provider of Laser Direct Structuring technology today announced that Jim Liddle, Director of Business Development will speak to industry experts concerning Laser Direct Structuring of 3D Conformal Antenna on Injection Molded Carriers.
Sharing his expertise in Laser Direct Structuring design solutions, Jim will provide examples, guidelines and case studies for the design and development of 3D Conformal Antenna.
Who: Jim Liddle, Dir. of Business Development, SelectConnect Technologies
What: Laser Direct Structuring of 3D Conformal Antenna on Injection Molded Carriers
When: Wednesday May 2nd, 4 PM
Where: Del Mar Fairgrounds, San Diego, CA
About SelectConnect Technologies:
SelectConnect Technologies, a Division of Arlington Plating Company, manufactures three-dimensional molded interconnect devices (3D-MID) utilizing Laser Direct Structuring and Double-Shot methods. SelectConnect Technologies also provides Plating on Plastic (PoP) utilizing Surface Activation and Ionic Palladium.
Applications exist for:

Military
Aerospace
Medical Device
RF Antenna
RFID
Sensor Packaging
Security Housing
Connectors
A 3D-MID consists of circuit traces (3D Circuits on Plastic) embedded onto molded thermoplastics to form electrical pathways and landings for surface mount components.
Designing systems with LDS 3D-MID components allow designers to:
Reduce bill of material (BOM)
Reduce complexity of components
Reduce size
Reduce weight
Reduce assembly times by having fewer components, wires and interconnects.
Laser Direct Structuring is a process in which a CAD file is fed into a specialty laser system which then structures the circuit pattern onto the part surface creating a 3D MID. The 3D MID is then electroless plated for conductivity.
The Double-Shot process consists of an injection molded part over-layed with a 2nd injection (double-shot) of plateable material which forms the circuit directly into the chassis. The part is then electroless plated for conductivity.
Plating on Plastic (PoP) using the Surface Activation Process allows plating hard to plate material such as PEEK, Ultem, Nylon and Acetal without the use of Chromic Acid or Mechanical Etching. The result is a uniform, smooth finish with better adhesion.
Get your Beginner's Guide to Laser Direct Structuring by visiting our website.