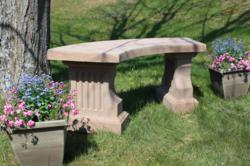 Manchester, CT (PRWEB) April 20, 2012
Dawn Enterprises, leading manufacturer of site amenities, has just released their newest concrete garden bench line, including the brand new Coliseum Bench that has received a lot of positive feedback for its design. This new bench is available with a straight or curved seat, has pillar-like designs on the legs, and is offered in natural, white, charcoal and brown.
This bench is as sturdy and solid as it looks and is constructed from concrete that exceeds industry standards. Make a statement of strength and power by adding this Roman styled concrete bench to your property. This Coliseum Concrete garden bench weights 208 lbs making it practical to place while still preventing theft.
Visit http://www.godawn.com in order to check out their full line of concrete benches as well as their other site furnishings, including bollards, planters, waste containers, waste receptacles and more. Dawn Enterprises manufactures and distributes products made from concrete, steel, plastic, stone aggregate etc. Feel free to call them directly at 1-800-262-3296.