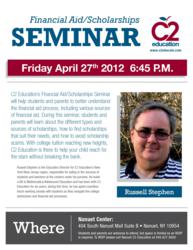 Nanuet, New York (PRWEB) April 19, 2012
On April 27, C2 Education will host a Financial Aid/Scholarships Seminar in the New York area. This free seminar will help students and parents familiarize themselves with the financial aid process, including the many possible sources of financial aid. With college tuition reaching new heights, C2 Education is there to help your child reach for the stars without breaking the bank.
Russell Stephens, the keynote speaker, is C2's Education Director for the New York/New Jersey region. In his six years with C2, Mr. Stephens has helped countless students navigate the financial aid process, offering valuable tips and advice for seeking and winning scholarship money. During the Financial Aid/Scholarships Seminar, he will share his wisdom, including how to find scholarships, what sources are available, and how to avoid scholarship scams.
The seminar will be held on Friday, April 27 at 6:45 PM at C2 Education's Nanuet Center, located at 404 South Nanuet Mall Suite B in Nanuet, NY. Students and parents are welcome to attend this free seminar, but space is limited so an RSVP is required. To RSVP, contact C2's Nanuet Center at (845) 627 – 9500.