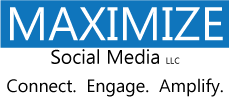 "Given our current capacity to handle clients in over 40 different verticals, we have the ability to handle additional business and are happy to provide support to other agencies," said Chris McLaughlin, CEO of Maximize Social Media LLC
Los Angeles, CA (PRWEB) April 18, 2012
Social media agency Maximize Social Media LLC is pleased to announce that it will now offer Pinterest outsourced management services for agencies interested in using Pinterest to build their clients' brand awareness. Maximize currently offers management services for Facebook, Twitter, LinkedIN, YouTube, and Google+.
"We recognize that advertising agencies need to concentrate on client development and many aren't positioned to offer social media management services. Given our current capacity to handle clients in over 40 different verticals, we have the ability to handle additional business and are happy to provide support to other agencies," said Chris McLaughlin, CEO of Maximize Social Media LLC.
Pinterest has created tremendous buzz lately as its growth now places it among the top 3 for social networks, surpassing both LinkedIN and Google+ in user traffic in March of 2012. One of the reasons that Pinterest has grown so quickly is its intuitive functionality as well as its visual interface. Businesses involved in retail will find the images of their products being shared throughout the Pinterest community. Popular items that are pinned include jewelry, furniture, room décor, and food items.
"We invite advertising executives to contact our firm to discuss how we can take additional workload from them while also providing exceptional customer service," McLaughlin said. He noted that those interested in learning more about Pinterest for business could contact Maximize Social Media to obtain a complimentary hour-long video reviewing the benefits Pinterest provides.
About Maximize Social Media LLC
Maximize Social Media (http://www.maximizesocialmedia.com) is a social media agency that provides management services for clients in over 40 different verticals. With offices in Florida and Los Angeles, Maximize offers social media consulting and Facebook advertising management for clients in English speaking countries such as the US, Canada, and Australia. The company also features social media management outsourcing for busy social media mangers looking for additional assistance on a white label basis.