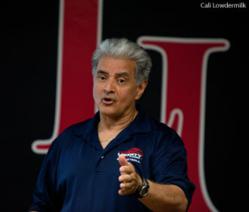 Lynchburg, VA (PRWEB) April 18, 2012
Liberty University announced the addition of women's racquetball as its 30th Club Sports offering in a news conference at the LaHaye Ice Center on Tuesday.
"We always wanted to have a women's team when we started the men's team," said Danny Rodriguez, who will coach both teams.
The men's team, launched last fall, finished sixth in the Mid-Atlantic Collegiate Racquetball Conference final rankings, despite a slow start at its first tournament.
"The teams that finished ahead of us had women's teams. Having a women's team would help us earn more points," Rodriguez said.
In the conference, both men's and women's scores are combined for a winning score.
There are already six interested players for the women's team, who will begin practicing immediately at The Sports Racket, an indoor tennis and racquetball facility located in Lynchburg, about a 15-minute drive from campus. The facility was donated to the university last year.
Liberty's Club Sports program had six teams and 90 student athletes in 2008, according to Director of Club Sports Kirk Handy. This fall, there will be 500 student-athletes in the 30 teams.
"We wanted to model ourselves after the NCAA athletic department, and on a level similar to an NAIA type of athletic department," Handy said, when describing the evolution of Liberty's Club Sports over the last four years.
The first tournament of the season for both the men's and women's teams is scheduled for Sept. 28-30 at The Sports Racket.
Liberty University, located in Lynchburg, Va., is the world's largest Christian university. More than 12,000 students attend classes on its 6,500-acre residential campus and more than 70,000 study in its thriving online education program.