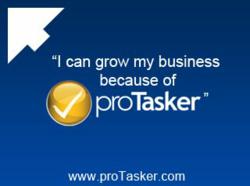 Middletown, NJ (PRWEB) April 19, 2012
ProTasker is easy-to-use, somewhat addictive, and affordable project management software at just $47.97 per month for an unlimited number of users and storage. Users can try the product for free for 30 days by visiting http://www.protasker.com.
ProTasker offers a suite of highly productive features that help organizations stay ahead of the curve by centralizing and managing important contacts, projects, tasks and calendars.
Version 2.0 includes a number of upgrades including:
Improved Workflow
ProTasker version 2.0 now allows users to add clients and projects on the fly, thereby making it quicker and easier to get things done.
New Design
Initial client feedback has led to a new, cleaner design that gives stronger visual direction for project management.
"My List"
A new "my list" feature allows users a quick and easy way to add "to do" lists that are not specifically project related.
ProTasker helps you define and streamline the processes that happen within your company each and every day. Define your project and task statuses, employee permissions, and more through ProTasker's Account Management functionality. Process definition helps you get the most out of ProTasker and out of your business.
About ProTasker LLC
Founded by software developer and marketing agency owner Chris Mulvaney in 2010, ProTasker LLC is an outgrowth of proprietary software that Chris developed for use at his own company and then began sharing with clients. Realizing that there was a tremendous need for his software among small to mid-sized organizations, Chris formed ProTasker LLC to launch the product to the open market. For more on ProTasker, please visit http://www.proTasker.com