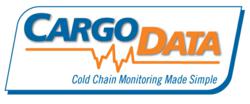 UpLink eliminates the need to print, scan, fax, and email temperature charts.
Ventura, CA (PRWEB) April 19, 2012
Cargo Data, a leader in innovative temperature monitoring solutions, unveils its newly designed website featuring unique ways to access cold chain data.
This site offers a new & unique view of our products plus access to cold chain temperature data in two new innovative ways. Immediate access in real time using the new ATMS (Automatic Temperature Monitoring System) program or access to previously downloaded recorder data for shippers, receivers and carriers using free UpLink feature.
The ATMS program provides instant and automatic archiving of ALL data on incoming perishable shipments at time of arrival. The wireless transmission of data is sent directly to a secure server so downloading individual recorders is no longer necessary. For fast data at the trailer door, use the Express handheld receiver. Receiving Dock employees can view a Large LCD chart in less than 5 seconds and see details of the arriving temperature data. No waiting for downloading-accept/reject decisions are fast and at the same time the data is sent for permanent storage. Contact Cargo Data for complete details on the program.
The second innovation is our Uplink data access program. Cargo Data recorders can be downloaded using our free - KoldLink software (available at http://www.cargodatacorp.com). The UpLink feature immediately sends the temperature data to a secure site. All interested parties can retrieve the temperature data by entering the unique recorder ID number in the UpLink field at cargodatacorp.com. Reports can be viewed online and printed for free. (Sample report available online)
Our new logo showcases our approach to temperatures and our commitment to "Cold Chain Monitoring Made Simple". Visit our all-new website at http://www.cargodatacorp.com or call 800-338-8134 to learn more about these and other temperature monitoring solutions.