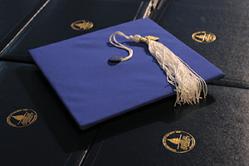 Washington, DC (PRWEB) April 18, 2012
Dedicated public servants from the White House, Smithsonian, and USAID, and the CEOs from The Associated Press and Calvert Investments will address American University's graduates at #2012AUGrad, the university's 126th commencement ceremonies on May 12 and 13, followed by the law school ceremony on May 20.
Associated Press president and CEO Tom Curley will address graduates of the School of Communication at 9 a.m. May 12. As leader of the Associated Press since 2003, Curley has moved to capture the growing audience for digital and video news in a rapidly changing media world. He will address students who are launching their careers in an expanding digital environment. Curley will receive an honorary doctorate of humane letters.
Calvert Investments Inc. CEO Barbara J. Krumsiek will speak to the graduates of the Kogod School of Business at 1 p.m. May 12. At Calvert, Krumsiek has been an advocate for issues relating to the advancement of women and corporate social responsibility. This year, she is leading the discourse within the global investment community on the links between sustainability and financial performance. As Kogod launches its master of science in sustainability management this fall, Krumsiek's advice will resonate with graduating students seeking careers in today's global marketplace. Krumsiek will receive an honorary doctorate of laws.
Dr. Rajiv Shah, the administrator for the United States Agency for International Development (USAID), will speak at 4:30 p.m. May 12 to students from AU's School of International Service who are seeking to make meaningful change in the world after graduation. As administrator, he has led President Obama's Feed the Future food security initiative, and has managed "USAID Forward"—reforms to USAID's business model, including procurement, science & technology, and monitoring & evaluation. Shah, a medical doctor, will receive an honorary doctor of international affairs.
Erskine B. Bowles' lifelong commitment to public service and to promoting economic growth in his home state of North Carolina will be of interest to the future politicians, campaign staffers and policy wonks graduating from the School of Public Affairs at 9 a.m. May 13. His career has spanned both education and politics as the former president of the University of North Carolina system, former White House chief of staff to President Bill Clinton, former director of the Small Business Administration and most recently co-chair of the bipartisan National Commission on Fiscal Responsibility and Reform. He will receive an honorary doctor of public service.
Wayne Clough, secretary of the Smithsonian Institution, will address graduates of the College of Arts and Sciences at 1 p.m. May 13. Guided by a new strategic plan and using new technology, the Smithsonian is expanding access to its collections and experts to spark discovery and excite the learning in everyone, no matter where they live. Work continues on four grand challenges—Unlocking the Mysteries of the Universe, Understanding and Sustaining a Biodiverse Planet, Valuing World Cultures and Understanding the American Experience—much in the same way that American University's students have emphasized the arts and sciences in their studies in order to connect them to the larger issues of contemporary society. Clough will receive an honorary doctor of public service.
Valerie Jarrett, senior advisor to President Barack Obama, and chair of the White House Council on Women and Girls, will speak at the Washington College of Law ceremony on May 20. Jarrett has held positions in both the public and private sector, including the chairman of the Chicago Transit Board; commissioner of planning and development for the City of Chicago, and deputy chief of staff for Mayor Richard M. Daley. Jarrett will receive an honorary doctor of laws degree.
In addition to conferring honorary degrees, American University President Neil Kerwin will bestow the President's Award, the highest award for undergraduate students, to a graduating senior who has displayed a longstanding commitment to building community and promoting AU's ideals of academic achievement, integrity, selflessness, leadership, and service.
American University will confer degrees on more than 3,500 undergraduate, graduate and law school students. More than 2,400 will participate in the commencement events on Saturday, May 12, and Sunday, May 13, in American University's Bender Arena. It is a longstanding tradition for American University to hold graduation ceremonies on Mother's Day weekend. One week later, on Sunday, May 20, at 1 p.m., students will participate in the Washington College of Law's graduation ceremony, also held in Bender Arena.
Families and friends who cannot make the ceremonies will be able to watch a live stream of each ceremony on the American University website. Students, alumni, friends and family are also encouraged to follow AU's Commencement on the Facebook group, and tweet during commencement using the hashtag—#2012AUGrad.
Located in Washington D.C., American University is a leader in global education, enrolling a diverse student body from throughout the United States and more than 140 countries and providing opportunities for academic excellence, public service, and internships in the nation's capital and around the world.