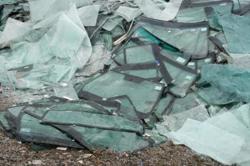 At Rapid Glass we are extremely excited to be able to do our share to improve our environment for generations to come.
Minneapolis, MN (PRWEB) April 20, 2012
It has always been a difficult and costly proposition for glass repair and replacement companies to dispose of their broken glass. Until recently they could only recycle a small fraction of the glass leaving the rest to be hauled off to area landfills. Most of the glass recycling today focuses on glass bottles and containers. Many collection facilities that collect these bottles have to separate the glass by color. This was not only cumbersome but also dangerous because of the nature of handling broken glass.
Previously with auto glass and particularly windshield glass, there were minimal recycling options available due to the polyvinyl butyral (or PVB) used in the manufacturing of windshields. Recycling home window glass was also problematic due to insulated glass windows having an aluminum spacer and a sealer holding the two panes of glass together. These concerns are no longer an issue due to a glass pulverizing technique that is becoming increasingly more popular.
This process is typically not done by conventional recyclers or landfills, but rather by companies that are familiar with the use of various forms of aggregate. The glass is pulverized down to sizes ranging from three-quarter inch to very fine glass sand. This allows for a wide range of uses and applications, much the way regular sand and aggregate is used as well as some new markets for this very unique product.
One of the more popular uses has been in various roadway construction processes. Some states have set specifications that provides up to 10% or more reclaimed glass be used in Class 5, 6, or 7 road base material. Recycled glass can be used 100% in some cases and can actually improve the quality of the gravel because it can enhance the permeability of the road service and decrease runoff. Glassphalt, uses 5-10% reclaimed glass mixed with asphalt and has been used for more than 30 years and is comparable to conventional surfaces with the benefit of increased traction and skid resistance. Reclaimed glass is also used as a reflective safety material in roads and crosswalks.
Other uses include glass counter tops and flooring, septic system mounds and swimming pool filters because glass doesn't harbor bacteria, sand for beaches, playgrounds and even golf courses. Golf courses have found that glass sand is especially useful on the putting greens as it has ten times the life of sand and dries quicker than the typical peat/silica mixture. If you look at glass sand in a microscope, it looks sharp, but it is actually rounded and quite safe. In fact, it has been used in various landscaping applications including glass sand walkways where you can even walk on it with bare feet and it is completely safe.
"Consumers are becoming increasingly more concerned about how we impact our surroundings", explains Rick Rosar, Rapid Glass president, "At Rapid Glass we are extremely excited to be able to do our share to improve our environment for generations to come."
For 25 years, Rapid Glass has been one of Minnesota's premier Windshield Repair and Home Window Glass Replacement Specialists. We provide Quality Same Day Service for all of your Auto, Home or Business Glass needs. Our Customer Service representatives are friendly, knowledgeable and will handle all the paperwork and assist the customer with reporting their loss to ensure they are getting the full benefit that their insurance policy provides.