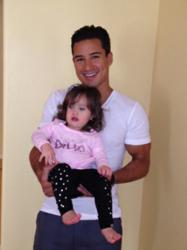 "We absolutely love My Baby Bling! On top of being super cute the quality is wonderful – it's the perfect gift!" - Mario Lopez & Courtney Mazza
San Francisco, CA (PRWEB) April 19, 2012
April 19, 2012 – San Francisco-based children's clothing company My Baby Bling (http://www.mybabybling.com) offers babies their first steps towards stardom with a line of create-your-own baby clothing. Mother and daughter team, Rosemary and Amber Wright created a one-of-a-kind baby product line. "We wanted to build a fun shopping experience for customers allowing them to create a gift as unique as the little one for whom they're shopping" says founder, Amber Wright.
The company's first steps have turned into leaps and bounds– this month, the hottest names in Hollywood will be dressing their lil ones in My Baby Bling. New celebrity moms Beyonce, Jennifer Garner, Jessica Simpson, Hilary Duff & Kourtney Kardashian received their own custom My Baby Bling. Mario Lopez's fiancé, Courtney Mazza, adores her My Baby Bling for their two-year old daughter, "We absolutely love My Baby Bling! On top of being super cute the quality is wonderful – it's the perfect gift!"
By visiting http://www.mybabybling.com customers can create their product in three easy steps – pick a design, then choose from a wide selection of clothing and accessories and it's all delivered right to your doorstep in adorable packaging ready to gift!
My Baby Bling sells via their website (http://www.mybabybling.com) but is also available in select baby boutiques. To become a wholesaler, contact amber@mybabybling.com for pricing and product availability. My Baby Bling's sister line, My Bridal Bling (http://www.mybridalbling.com) is already a fashion favorite. It was featured in Us Magazine, OMG!, Daily Mail, Hollywood Life and worn by Kim Kardashian.
If you'd like more information about this company, or to schedule an interview please call 650-776-9158 or contact by e-mail at Amber (at) mybabybling (dot) com