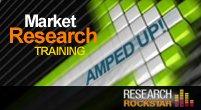 In-depth research interviews that go beneath the surface to uncover what's really going on with customer attitudes and behaviors is an essential tool in any company's market research kit.
Marlboro, MA (PRWEB) April 19, 2012
Research Rockstar is pleased to announce its new "Research Interviews 101" class starting in May. Designed to benefit anybody interested in using research interviews (also often referred to as in-depth interviews or IDIs) to discover customer attitudes and behaviors, this is a fast-paced, no-fluff, 90 minute class. Students learn how to recruit for IDI studies, design interview guides that work, and understand, interpret and report results. An interactive exercise solidifies the learning experience.
"Demand for qualitative research methods training has been growing notably," says Research Rockstar president Kathryn Korostoff, "and one of the primary areas of interest has been in best practices for conducting in depth research interviews. We teach what to do before, during and after the project to get the most useful results possible, whether you're interviewing in-person or on the phone."
Class Options
This single session class is currently offered on two separate dates, May 11th and May 24th, and will meet in Research Rockstar's virtual classroom. Cost is $249.00 per student, and includes class registration and class workbook. Access the class agenda by clicking here and register online here.
Don't see a date that meets your needs? If you have five colleagues interested in the class, Research Rockstar can schedule a date and time convenient for your team. Research Rockstar also offers on-site training options for teams.
For more infomration, please contact Cathy Leonard at Sales(at)ResearchRockstar(dot)com.
About Research Rockstar and Instructor Kathryn Korostoff
Research Rockstar delivers training tips and tools to busy professionals seeking market research excellence, online or in person. Research Rockstar clients are actual buyers and users of market research services, people who need to find, buy, and manage market research resources.
President Kathryn Korostoff is a market research professional with a special interest in how organizations acquire, manage, and apply market research. Over the past 20 years she has personally directed more than 650 primary market research projects and published over 100 bylined articles in various magazines and newspapers.