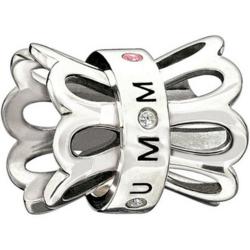 Chamilia has launched a 2012 limited edition Mother's Day bead, available at A Silver Breeze.
New York, NY (PRWEB) April 19, 2012
With Mother's Day quickly approaching, the hunt for the perfect Mother's Day gift is on. Look no further, because A Silver Breeze has exactly what you're looking for! Specially designed for Mother's Day, the Chamilia collection has launched a Chamilia limited edition Mother's Day bead. Add it to an existing bracelet or start a brand new one for her bead collection. Not sure what to start a new bracelet with? A Silver Breeze also offers a Chamilia limited edition Mother's Day gift set. It comes ready-to-wear with a Twirl Snap bracelet, and two beads from the Chamilia Garden Party collection.
This year's Mother's Day collection features dazzling mother-daughter matching beads, beads that simply say "I love you", and beads specially designed for grandmothers, sisters, daughters and friends. The Chamilia Mother's Day Beads are sure to put a smile on everyone's face!
This Mother's Day show her how much you appreciate her with the jewelry from Chamilia! Whether you are shopping for your own Mother, or picking out a gift for a friend, sister or grandmother – the Chamilia collection has the beads to fit any occasion! For your shopping experience this Mother's Day, Chamilia and the staff at A Silver Breeze are ready to help you!
A Silver Breeze is proud to offer the Chamilia Mother's Day beads collection in store and online at: http://www.asilverbreeze.com.
About A Silver Breeze
A Silver Breeze was founded with a philosophy in mind: give women the freedom to be themselves and embrace a sense of style that's unique to each woman. A Silver Breeze offers women quality sterling silver jewelry that is interchangeable, like the Kameleon, Miss Chamilia, Bijoulee, Chamilia, Spinning Jewelry, and the new Chamilia Mother's Day Beads.
Stores are located at the Aviation Mall in Queensbury, New York, at the Wilton Mall in Saratoga, New York, and online at: http://www.asilverbreeze.com. Be sure to browse the online store to see all the available collections. Free shipping is available anywhere in the USA. A Silver Breeze ensures every customer's shopping experience will be an unforgettable one.