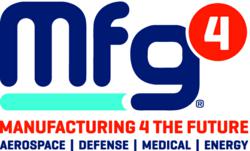 For those who attended EASTEC last year, you'll also see more than 40 new exhibitors this year at Mfg4
Dearborn, Mich. (PRWEB) April 20, 2012
Top manufacturing officials and executives from the U.S Department of Defense, NASA, National Institute of Standards and Technology (NIST), FuelCell Energy Inc. and medical company, Accellent, will be among the keynote speakers at Mfg4 – Manufacturing 4 the Future, which takes place May 8-10, 2012, at the Connecticut Convention in Hartford.
Mfg4 is produced by the Society of Manufacturing Engineers (SME) to bring together four manufacturing growth sectors – aerospace, defense (including arms), medical and energy – to advance American manufacturing by unlocking the potential to find solutions to shared manufacturability issues. Mfg4 was developed in partnership with an advisory committee of leading OEMs including Medtronic, Remmele Medical, Sikorsky, Raytheon and GE Energy.
"The excitement is building for this new event, which includes dozens of conference tracks attendees can choose from to learn manufacturing best practices outside their own industry," said Debbie Holton. "For those who attended EASTEC last year, you'll also see more than 40 new exhibitors this year at Mfg4."
The conference brochure is now posted at on the Mfg4 website. Registration for the exposition and program begins at 8 am each day of the three-day conference.
Tuesday, May 8

Neal Orringer, director of manufacturing, Office of the Deputy Assistant Secretary of Defense for Manufacturing and Industrial Base Policy
Jim Adams, deputy chief technologist, NASA, Space Technology and the Age of Innovation
Wednesday, May 9
Frank Wolak, vice president, FuelCell Energy, Inc., Fuel Cell Power – Advancing Innovation in Clean Energy Technology and Manufacturing
Alan Beaulieu, principal and president, Institute for Trend Research
Thursday, May 10
Gary S. Falwell, technical business development leader, Accellent, Technology Innovations Required For Manufacturing Of Medical Devices And Components
Michael, Molnar, chief manufacturing office, National Institute of Standards and Technology
Mfg4 is the first-ever conference and exposition that invites manufacturers and OEMs from four growth industries – aerospace, defense (including arms), medical and energy – to find success and opportunities by connecting, collaborating and sharing common manufacturing supply-chain challenges. For more information about attending, exhibiting, or presenting at Mfg4, visit mfg4event.com or call 800.733.3976. For the most up-to-date details, follow us on Twitter @mfg4event.
Mfg4 will alternate years with EASTEC, which has been at the Eastern States Exposition in West Springfield, Mass., since 1988, and returns there May 14-16, 2013.
Note to Media:
Visit the SME Media Center for the latest Society news, one-stop access to SME Events, Manufacturing Quick links, SME social media sites, SME News Feed and more.
About SME
The Society of Manufacturing Engineers (SME) is the premier source for manufacturing knowledge, education and networking. Through its many programs, events, magazines, publications and online training division, Tooling U, SME connects manufacturing practitioners to each other, to the latest technologies and to the most up-to-date manufacturing processes. SME has members around the world and is supported by a network of chapters and technical communities. A 501(c)3 organization, SME is a leader in manufacturing workforce development issues, working with industry, academic and government partners to support the current and future skilled workforce.