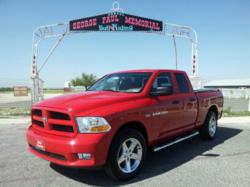 Over $60,000 is up for grabs in prize money over two days.
Fort Worth, TX (PRWEB) April 20, 2012
It was 35 years ago that the very first, stand- alone bull riding was held on a warm spring day in Del Rio, Texas. Named in memory of one of the most famous bull riders in history, George Paul, it has become to be known as the "Superbull" of bull riding.
That first year, the GPM offered a total prize money payout of $25,000, unheard of at the time. Now, thirty-five years later, more than $60,000, over two days, is up for grabs for bull riders. In honor of the historical occasion of celebrating 35 years of bull riding, organizers of the GPM have added an unprecedented prize to the payout. GPM has always been known to offer a cash bonus to the rider of the "Bounty Bull" but this year the lucky cowboy who earns a chance to ride that bull, will be riding for a brand new 2012, red, fully loaded Ram 1500 ST Truck thanks to Nick Khoury of Ram Country Dodge, in Del Rio.
Khoury has long been a huge supporter of the George Paul Memorial and this year, as the title sponsor, he thought he would do something special.
"Del Rio and the George Paul are the home of stand-alone bull riding. It was unfortunate that the death of George Paul had to be the reason for the event but, the 1968 World Champion Bull Rider and only guy to ride 79 bulls in a row left as his legacy a chance for bull riders to earn a living in the world's toughest sport. The guys instrumental in the foundation of stand-alone bull riding are Bobby Paul and Tuff Hedeman. Bobby Paul, to honor his brother by producing the signature stand-alone world famous event, and Tuff Hedeman to organize bull riders into their own association. For the past 12 years we have been honored to be the title sponsor for the George Paul Memorial. Thirty-five years is another milestone for the George Paul so I wanted to sweeten the pot by giving away a new 2012 Ram 1500 truck. But believe me; the bull rider that wins it will have to earn it," stated Khoury.
In Saturday nights performance, April 28th, all 40 world class CBR bull riding contestants will ride one bull. The rider with the highest score will have a chance to ride the Ram Country Bounty Bull, Poker Face. Poker Face, owned by Box K Cattle Company, Ken King, is not just any bucking bull according to Tuff Hedeman, President of CBR, a four-time world champion and three-time George Paul winner. Hedeman when contacted said, "Poker Face has a 100% buck off statistic. I guess many would say that makes him unrideable and that my friend Nick will get to keep his truck but, I'm not so sure about that. He has a lot of power but, he's rideable. He doesn't have any dirty tricks, no cheap shots, anything particularly tricky. He just bucks and bucks hard. I can think of about 5 guys that I think can ride him. I just hope whoever gets on him rides him. What better for a guy than to ride a bull with a 100% buck off rate and then have a soft ride out of the arena in his new red, fully loaded Ram Country Dodge Ram ST 1500? I always want the riders to win."
Khoury added, "Del Rio is where I chose to raise my family and do business. Championship Bull Riders come to Del Rio from all over the United States, shop with us and take a new truck home. They know we support the bull riders of CBR and have for a long time. They knew us yesterday, know we're here today and will be here tomorrow when they come back. It's just my way of saying thanks to my CBR family members and honoring 35 years of Bobby Paul producing the event that makes Del Rio the home of stand-alone bull riding. And quite honestly, I hope one talented CBR bull rider drives out of the arena in that new red Ram 1500 fully loaded ST quad cab."
Bobby Paul, producer of the 35th George Paul Memorial Bull Riding echoed the sentiments of Khoury and Hedeman. "I really hope a guy covers (successfully rides) Poker Face on Saturday night. George would be proud of CBR and the loyalty of our title sponsor, Ram Country Dodge. Nick and the Ram Country family along with us go all out to make this event the national icon of professional bull riding. I guess that's why CBR bull riders and fans from all over the country come to the George Paul Memorial shop and buy their trucks here in Del Rio."
Title sponsor for the 35th George Paul Memorial Bull Riding is Ram Country Dodge. Additional sponsors include Budweiser, Ramada Inn, Del Rio Feed and Supply, Tractor Supply and Sam's boot Corral. Tickets can be purchased at the George Paul Memorial Bull Riding Office, Val Verde County Fairgrounds, Del Rio Feed and Supply and Sam's Boot Corral. Master Card and Visa accepted at the George Paul Memorial Bull Riding Office or georgepaulmemorialbullriding.com. Performances April 28 at 7:00pm and Sunday April 29 at 3:00 pm
About CBR:
Led by bull riding icon, Tuff Hedeman, Championship Bull Riding, Inc. (CBR) is a nationwide, professional bull riding organization. The CINCH CBR Tour events are professionally produced live shows designed to be an adrenaline rush the whole family will enjoy. Starting in May of 2012 the CBR can be seen on their new host network FOX SPORTS NETWORK (FSN) with over 26 weeks of gripping, primetime television seen by over 20 million viewers. Combined with its subsidiary tour, the Horizon Series, CBR will visit over 70 venues throughout the United States reaching more than 350,000 fans in live attendance this year. CBR is the home of THE REAL COWBOY SPORT™ - the best bull riders and bulls in the world. We are committed to the riders, the fans, corporate sponsors, and all those involved in the professional bull riding industry. For more information on CBR, please visit http://www.CBRbull.com or call us today at 817.626.BULL (2855).