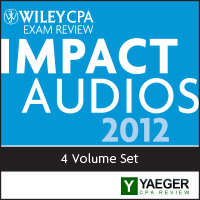 The new Impact Audio series is our way of giving CPA students essential tools that allow for more study flexibility, greater access to vital information, and--ultimately--better scores on the CPA exam.
Rockville, Maryland (PRWEB) April 19, 2012
Yaeger CPA Review announced today a partnership with global publisher John Wiley & Sons, Inc., to update the Wiley Impact Audio series via a new co-branded website CPAaudio.com. The 2012 Wiley/Yaeger Impact Audio Series combines the instructional expertise of YAEGER CPA Review with the industry leading content of Wiley CPA Exam Review providing the candidate of today with the best, most current information available in the CPA Exam Review Industry. The Impact Audio series includes convenient features such as:

Detailed coverage of the vital concepts needed to pass the CPA exam;
Updated with the latest AICPA content guidelines;
Accessible on an iPod, MP3 player, tablet, and any mobile device.
David Pugh, Wiley VP & Publisher said: "While we work with many course providers and resellers, we are thrilled to team with Yaeger to update our Impact Audio offering. They have been a terrific partner for many years and we look forward to giving CPA students the mobile study solutions they need to listen and learn wherever they are."
Phil Yaeger, President of Yaeger CPA Exam Review, noted this exciting development stating, "The new Impact Audio series is our way of giving CPA students essential tools that allow for more study flexibility, greater access to vital information, and--ultimately--better scores on the CPA exam. We're always looking for new ways to ensure CPA exam success, and these audio courses are a powerful new means to that end."
Please note: CD-ROM versions will be available via WileyCPA.com, Amazon, Barnes & Noble and other major retailers and resellers within the next few months.
About Yaeger CPA Review
Yaeger CPA Review makes students' CPA exam success its #1 priority. In a world where many lackluster CPA review courses clog the works and provide insufficient results, Yaeger CPA Review is committed to only offering the best materials alongside a strong-knit community of instructors and students who support each other in their pursuit of high performance.
Established in 1977 by Dr. Phil Yaeger, Yaeger CPA Review takes a different approach to the CPA exam. Instead of relying on rote memorization, Yaeger's instructors and courses help students fully integrate the critical knowledge they need to pass the CPA exam—and then take that knowledge with them into the future of their exciting new career!
One of Yaeger CPA Review's driving goals is to make high-quality CPA course materials as accessible and effective for students worldwide. This has resulted in their development of multi-format courses (DVD, online, USB, etc.), the Yaeger radio station, myYaeger online student portal, and, of course, these exciting new audio lectures.
About Wiley
Founded in 1807, John Wiley & Sons, Inc. has been a valued source of information and understanding for more than 200 years, helping people around the world meet their needs and fulfill their aspirations. Wiley and its acquired companies have published the works of more than 450 Nobel laureates in all categories: Literature, Economics, Physiology or Medicine, Physics, Chemistry, and Peace.
Our core businesses publish scientific, technical, medical, and scholarly journals, encyclopedias, books, and online products and services; professional/trade books, subscription products, training materials, and online applications and Web sites; and educational materials for undergraduate and graduate students and lifelong learners. Wiley's global headquarters are located in Hoboken, New Jersey, with operations in the U.S., Europe, Asia, Canada, and Australia. The Company's Web site can be accessed at http://www.wiley.com. The Company is listed on the New York Stock Exchange under the symbols JWa and JWb.
About Wiley CPA Exam Review
Wiley CPA Exam Review, a trusted name in CPA Review for over 40 years, publishes the world's number-one best-selling CPA Review books and other review tools including Online Test Bank (CPATestBank.com), 16 review apps and more. Wiley CPA Exam Review is part of Wiley Global Finance which publishes the J.K. Lasser tax guides, Wiley Advantage Audit turn-key auditing materials, PasstheTaxExam.com RTRP test prep guide and Test Bank, and over 400 finance, accounting, tax, trading and related books annually.