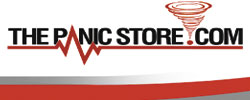 This category now features a variety of tactical folding knives, law enforcement knives, public safety knives, camping knives, survival knives, military knives, machetes and camping axes
(PRWEB) April 19, 2012
As a leading online retailer of emergency supplies for natural and manmade disasters, The Panic Store is excited to offer its customers some of the best camping and survival knives from Smith & Wesson, Gerber, Schrade, Ontario Knives, Boker, Essential Gear and Tool Logic.
"This category now features a variety of tactical folding knives, law enforcement knives, public safety knives, camping knives, survival knives, military knives, machetes and camping axes," Ken Minard of The Panic Store said. "We are also currently offering free shipping on any knives sold through thepanicstore.com."
In addition, The Panic Store is offering to pay the California sales tax on all orders during May. For loyal customers outside of California, have no fear! The Panic Store will also sell its products with no tax for customers in other states.
"Can't find what you are looking for?" Minard said. "Browse the categories at our astore.amazon.com/thepanicstore-20. We put all brands of survival products in one place to make it easier for you to find what you need."
The Panic Store continues to help people prepare for unexpected disasters by supplying them with their emergency supplies needs. The more people that have planned ahead and prepared for an emergency--be it an earthquake, hurricane, tornado or other natural disaster--the fewer demands on the limited resources available after an event.
"We value and appreciate all the folks who have the foresight to see the advantages of preparedness," Minard said.
For more information about The Panic Store, call 925-570-3202 or view the company on the web at http://www.survivalgear-thepanicstore.com.
About The Panic Store
The Panic Store is a Dublin-based online store that offers all brands, sizes and types of emergency survival kits and products for disaster preparedness. The Panic Store is a leading online retailer of emergency supplies for natural and manmade disasters, supplying survival kits for every eventuality.