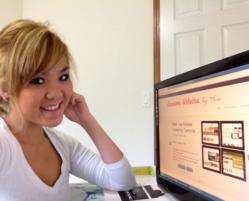 I took off one year of school to work because it felt like the right thing to do at the time.
(PRWEB) April 19, 2012
Thu Quach is a 21-year-old college student who has found a new way to pay for her college tuition, without taking loans or relying on her parents to support her. College seniors who took out loans to fund their college education owed an average of $25,250, according to the Institute for College Access & Success' Project on Student Debt.
 
"I took off one year of school to work because it felt like the right thing to do at the time. I come from a family of eight and have always had to pay for everything I own, so it was always a battle between work and school for me, until I learned how to create websites and develop an online presence. I quickly realized how much I enjoy designing websites, plus I really wanted to go back to school and focus on finishing my engineering degree, so I followed my guts and left my job." – says Thu Quach about the decision of quitting her 9 to 5 job at Philips Ultrasound and starting her website design business.
 
Quach recently launched her online business, AwesomeWebsiteNow.com as a "fair trade system".  Her mission is to help small businesses attract new customers, while sales pay for her college tuition. Being an internet entrepreneur offers its perks as she now works a significantly smaller amount of hours, yet generates enough income to pay for classes and living expenses.
 
Like many others, Quach was deeply inspired by the late Apple's CEO Steve Jobs' 2005 Stanford Commencement speech, in which he stated - "Your work is going to fill a large part of your life, and the only way to be truly satisfied is to do what you believe is great work. And the only way to do great work is to love what you do". In addition to her online business, she partnered with Bernard Ablola, co-founder of MarketersBlackBook.com, an online resource for internet marketers, on a Seattle Meetup group called "The 365 Day Vacation". Their purpose is to help others follow their passion and start a business doing what they love; whether it is blogging, selling homemade crafts, arts, informational products, etc. 
 
Quach explains her vision and why there should be more entrepreneurs, "There are so many incredible people out there with great ideas and skills; I want to bring out the creative and innovative side of everyone. Great ideas and passions were never meant to be unexposed; the more great work we inspire others to do, the closer we are to changing the world."
Between doing homework and running to engineering classes, Quach is helping entrepreneurs do what they love.