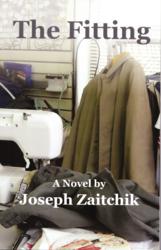 Zaitchik is a fresh new voice in American letters, intellectually hip, steeped in the whodunit tradition, and a born storyteller.
Boston, MA (PRWEB) April 19, 2012
The demise of American culture is a perennial complaint. To many it seems that our values are going to hell in a handbasket, that we are sinking in whirlpools of narcissism, mindless conformity, and vulgarity. How do individuals maintain their ethical integrity in such a society? That is one of several threads of inquiry woven into The Fitting (Florida Academic Press), Joseph Zaitchik's soul-wrenching new novel about an old man's struggle to follow Ralph Waldo Emerson's dictum: "Nothing is at last sacred but the integrity of your own mind."
Zaitchik, an emeritus professor at the University of Massachusetts Lowell, explores such questions in the framework of a compelling murder mystery whose suspense, alone, makes The Fitting a wonderful read. But this is a detective story where the question Whodunit? leads to the more significant question: What does this mean? It is a question Zaitchik has explored during his more than fifty years of teaching literature and humanities, and as the author of short stories, poems, book reviews, college textbooks, and the Stanley Drama Award play Be Our Joys. He brings to bear the reading, wisdom, and perspective of an examined life in the gripping story of Alex Shapiro, immigrant Russian tailor and his involvement in a college-town murder. Many murder mysteries take you for a suspense-filled ride, but few treat you to relevant Hebrew Bible and New Testament texts and the thinking of St. Augustine, Marcus Aurelius, and Amartya Sen. Such erudition is not pedantic. Faith Pullin, Honorary Fellow at the University of Edinburgh, describes the novel as "a psychological thriller which grips the reader on many levels . . . a product of much deep thinking around moral issues." Author/critic Jay Atkinson writes that "Zaitchik is a fresh new voice in American letters, intellectually hip, steeped in the whodunit tradition, and a born storyteller." David Daniel, author of the award-winning Alex Rasmussen private-eye series, writes that Zaitchik "delivers something altogether new. The Fitting has an almost Eastern European sensibility, and the result (part Kafka, Dostoevsky, and a smidgen of Woody Allen) is a dark and quirky tale that kept me turning pages."
Alex Shapiro decries the withering of empathy he sees all around him, most notably to his anarchistic college-age grandson, Anton, who barely tolerates his old-fashioned, "pastel liberal" Dedushka. Alex struggles in vain to bridge the cultural chasm separating a man at the beginning of his life from a man nearing the end of his. It is a heartbreaking disconnect—the reaching out to impart the learning of a lifetime to young uninterested ears. Zaitchik's real-life grandson, writer Alexander Zaitchik, has more of an appreciation for his Dedushka's wisdom. Indeed, he writes proudly of his grandfather's achievement in the Boston Phoenix. (The story can be found at http://thephoenix.com/boston/arts/130019-first-time-novelist-at-87-umass-professor-josep/.)
Alex Shapiro, survivor of the Battle of Stalingrad, immigrant tailor, thinker, examiner, is one of five fascinating centers-of-consciousness through which, as author/scholar Anthony Szczesiul describes it, "this deeply moving, deeply philosophical, deeply humane, and often funny novel" is told. The action is compressed into fifty-one suspenseful hours of real time, during which the characters are involved in a series of passionate confrontations, the last of which explodes into fragments of guilt, fear, despair, terror, and courage, as the old man finds that he must once again face a Stalingrad moment.
The Fitting, author Joshua Cohen summarizes, "is tightly stitched, but it breathes. Joseph Zaitchik sews with sentiment, intellect, narrisch, and noir." It will be embraced and enjoyed for the literary gem it so clearly is.
###
For further information, visit http://thephoenix.com/boston/arts/130019-first-time-novelist-at-87-umass-professor-josep/.
The Fitting, a Novel by Joseph Zaitchik
By Joseph Zaitchik
Published by Florida Academic Press, Gainesville, FL
Media contact: Victor Gulotta, Gulotta Communications, Inc.
617-630-9286, http://www.booktours.com, victor(at)booktours(dot)com
About the author
Joseph Zaitchik is Professor Emeritus at the University of Massachusetts at Lowell, where he has taught literature and humanities for forty-five years. Over the years he has published short fiction, articles, poetry, book reviews, and two college textbooks: Face to Face: Confrontation and Accommodation in America and Human Values: Perspectives on Six Themes. His play Be Our Joys was the winner of the Stanley Drama Award in 2004. The Fitting is his first novel.