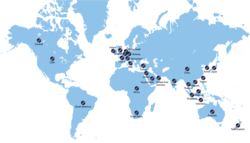 In the past three months Senetas has provided encryption solutions via rental programs for all forms of data security, including the right to extend the term, purchase at the end of the term or return the equipment. - Stuart Bell
MELBOURNE, AUSTRALIA (PRWEB) April 23, 2012
Senetas Corporation Limited (ASX:SEN), said today it was experiencing a noticeable uplift in security awareness from organisations migrating data into new information storage facilities.
Historically the risks inherent in migrating data from old data centres into new ones was seen as a natural part of migration and a risk to business, however organisations are increasingly looking to ensure the veracity and privacy of data during implementation of new data centres.
"We have noticed an increased awareness of the risk and the need to address this has seen a noticeable uplift in security attitudes," said Stuart Bell, Senetas General Manager - Product Sales, ANZ.
Mr Bell said Senetas has responded to the short-term market demands for such data migration protection with creative solutions covering all forms of Ethernet and Fibre Channel data security.
"We have offered rental solutions that do not tie clients into long term purchases, but allow them to cost-effectively meet short term market needs.
"In the past three months Senetas has provided encryption solutions via rental programs for all forms of data security, including the right to extend the term, purchase at the end of the term or return the equipment."
Senetas CEO, John DuBois said the company expects this emerging market sector will continue to grow demand as clients opt to de-risk by ensuring appropriate security for all data traffic during facilities migration. It is now available from Senetas Europe and other partners worldwide.
"This is a new line of business for Senetas that is already delivering a revenue stream in Australia and we expect near term revenues from this business to improve over the coming years." Mr DuBois said.
About Senetas
Senetas Corporation Limited (ASX Code: SEN), established in 1997, is an Australian ASX-listed public company and is the world's leading developer and supplier of high speed network encryption hardware products. Senetas is now represented in more than 40 countries including the UK where its 100% subsidiary Senetas Europe is based. Customers include Government, military, law enforcement agencies, plus leading financial and banking institutions in Australia, USA, Middle East, Asia, and the EU.
For more information: http://www.senetas.com