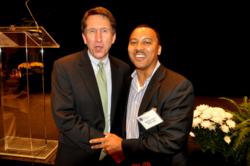 SocialMeter.org is where professionals meet for a purpose
Houston, TX (PRWEB) April 26, 2012
Houston hosted the world's richest and largest graduate-level business plan competition while many of its oil and gas related workforce were busy finishing up accounting for their increased earnings in 2011. By the time the tax filing deadline came, NuMat Technologies was probably still celebrating the $774,000 prize from winning the competition at Rice University.
NuMat's invention of a nanomaterial that stores gas prompted the GOOSE Society to invest $450,000 into the team from Northwestern University. A total of $1.55 million was awarded in prizes – the largest ever.
Michael Holthouse, a member of the GOOSE Society, spoke to a full crowd during the competition about the necessity of entrepreneurship and admonished the future leaders to seek to serve society in addition to seeking success.
Before speaking to the crowd, Mr. Holthouse consulted an entrepreneur about a concept called Social Meter. Social Meter (http://www.socialmeter.org) is a Houston-based startup that connects aspiring professionals with influential executives in exchange for charitable donations. Given that Mr. Holthouse has been Inc. Magazine's Entrepeneur of the Year twice, there are many people interested in meeting with him to discuss ideas, pitch deals, or seek advice. For a minimum donation of $2500 to Lemonade Day, these professionals can now get his attention. Social Meter will showcase his profile in coming months.
With the increased amount of capital and income in the Houston region due to energy prices, citizens now have a vehicle to donate to causes and meet its city's great entrepreneurs and executives during the process.
About Social Meter:
Social Meter is located at http://www.socialmeter.org. The application helps professionals meet executives that can further their career or projects in exchange for donations to the executive's chosen charity. Social Meter is based in Houston, TX and currently showcases many of the world's top executives with a simple sign up through Linkedin. The company can be reached at 1-888-577-4327.