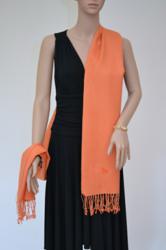 Pamper Yourself In Style
Greater New York Area, NY (PRWEB) April 20, 2012
In a survey conducted by a premier scarf company from New York - Home Of Pashmina about the favorite color of scarf people would like to buy via an online shopping site the results were quite surprising. More than 60% of the respondents chose the color that is slightly darker than orange sometimes called as Tangerine. Most reasons for the choice of this colors were that it is very different than the basic colors of red, blue and green and a scarf of Tangerine color attracts most attention of the onlookers.
The other colors in the choice that came close to the top were Aqua and Sky Blue. When people wear scarf, they want it to contrast with the underlying dress. Tangerine and Aqua color offer significant contrast with many of the dresses and shirts - be it white, black, grey, blue or red which also could have been the reason for its selection.
Color choices do vary depending on the season in which survey is conducted. Experience says that color surveys conducted in colder season tend to point to brighter shades while color choices for summer season are more towards blue and green in lighter shades.
The survey was run by the marketing department of Home Of Pashmina and was conducted over different social media. Overall 65 respondents answered the survey out of more than 150 polled.
About Home Of Pashmina and HOP Cashmere Brand
HOP Cashmere is a New York area based Cashmere Pashmina Design/Import House with online presence as Home Of Pashmina and Arte Della and its products are available in various boutiques in USA . Anu C – The owner of HOP Cashmere brand and President of Home Of Pashmina has many years of experience as merchandiser in a apparel manufacture and export company. Anu has also appeared in New York Area magazines as a upcoming women entrepreneur and a Pashmina lover.
For more information about HOP Cashmere and Arte Della or to order a press kit, please contact:
Anu Chandwani
Telephone: 800-757-2297
Email: ac(at)homeofpashmina(dot)com
Online: http://www.HOPCashmere.com and http://www.ArteDella.com