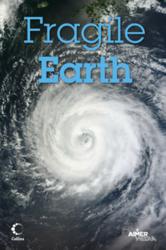 Fragile Earth combines some of the most powerful images of the environment, showing before and after scenes of our natural world.
New York, NY (PRWEB) April 19, 2012
HarperCollins UK, announced today the launch of its "Fragile Earth" app for the iPad and iPhone devices that support iOS 4.2 and above and is optimized for the new iPad. Developed in conjunction with Aimer Media, the app is set to become the definitive reference guide for all those interested in science, nature, photography and landscape.
Fragile Earth combines some of the most powerful images of the environment, showing before and after scenes of our natural world. Through these thought-provoking portraits from across the globe, the app captures the world's beauty, vastness and vulnerability. Detailed ecological snapshots depict rivers which have dried up or flooded, erupted volcanoes, glaciers in the process of melting, and cities sprawling outward.
Fragile Earth's innovative swipe function allows users to see years pass under their fingertips – from as far back as 1914 to the present day – by dragging multiple photographic layers across their screen to reveal images of a site before, during and after the landscape has changed.
"We set out to create an app that would convey the innate and delicate beauty of the world's landscape, while highlighting the dramatic shifts that are taking place across the globe," said Jethro Lennox, Head of Publishing for Collins Geo, a division of HarperCollins UK. "Not only is the Fragile Earth photography stunning, but we've also included more than 50 satellite images which provide detailed ecological snapshots from around the globe. This information is invaluable to anyone concerned for the state of the Earth, or those who are merely curious about our environment."
Fragile Earth is arranged into the following sections:

Natural Phenomena
Warming World
Water's Power
Deserts and Drought
Man's Impact
Wild Weather
The images can be viewed by location, category and date, and shared via Facebook, Twitter, or email without leaving the app, helping to spread consciousness about the planet.
Other events featured in Fragile Earth include the landslides in Maierato, Italy, the drying of the Aral Sea, formerly one of the largest lakes in the world, the draining of the Mesopotamia Marshes in Iraq, land reclamation in Ijsselmeer, Netherlands, and the effects of Amazon deforestation in Rondônia, Brazil.
In honor of Earth day on April 22, Fragile Earth will be available at a special promotional price of $0.99 from April 22 to April 29. To download the app, please click here.
About HarperCollins UK
HarperCollins UK publishes a great selection of non-fiction titles, including history, celebrity memoirs, biographies, popular science, dictionaries, maps, reference titles and education books, and its digital business is thriving. It also publishes a wide range of books, from cutting-edge contemporary fiction, to block-busting thrillers, from fantasy literature and children's stories to enduring classics.
With nearly 200 years of history HarperCollins publishes some of the world's foremost authors, from Nobel prize winners to worldwide bestsellers. In addition it publishes the works of Agatha Christie, JRR Tolkien and CS Lewis. It was the first major UK trade publisher to go carbon neutral in December 2007.
HC UK and International is responsible for the UK and Ireland, India, Australia and New Zealand and is a division of HarperCollins Publishers, one of the leading English-language book publishers in the world, with operations in the US, Canada, the UK, and Australia. HarperCollins Publishers is a wholly-owned division of News Corporation, the diversified global media company.
About Collins Geo
The app is published by Collins Geo, a division of HarperCollins UK. For nearly 200 years, Collins Geo has delivered authoritative mapping through its successful publishing, including the market-leading Times Atlas range, and expanding digital solutions, services, ebooks and apps. Its enviable reputation for quality and excellence has been its driving force since its humble beginnings as John Bartholomew & Son to award-winning status today.
About Aimer Media
Aimer Media develop new publishing models using the opportunities created by mobile app frameworks. They are the innovative team behind the "The Tate Guide to Modern Art Terms" and the "Collins World's Heritage" apps.