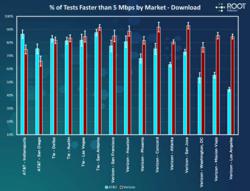 Showing how the carriers perform under real-world conditions from a real user's point of view is what truly matters in measuring LTE performance.
Bellvue, Wash. (PRWEB) April 19, 2012
Working with GigaOM, RootMetrics™ has released a groundbreaking report that provides the most holistic evaluation of the LTE race to date (Solving the LTE Puzzle: Comparing LTE Performance). RootMetrics shows that while LTE is the hot topic, it is only one piece of a much more complicated puzzle of how consumers truly experience their data networks. Focusing solely at LTE speeds fails to give an accurate look at what consumers find in their everyday mobile usage. Led by CEO Bill Moore, RootMetrics' well-rounded approach instead puts LTE performance in the context of real-world data speeds, LTE accessibility, and data failure rates to show each carrier in its best, and worst, light.
Using this comprehensive, holistic approach, RootMetrics' report on GigaOM sets a new standard for LTE comparison. Showing how the carriers perform under real-world conditions from a real user's point of view is what truly matters in measuring LTE performance. The detailed report brings together results from hundreds of indoor and outdoor locations and includes tests from both the downtown and outlying areas of 15 metropolitan markets to evaluate:
•How fast each carrier's LTE service was within and across 15 markets (see attached charts for details).
•How often RootMetrics was able to access each carrier's LTE service, as speed is irrelevant if the network cannot be reliably accessed in the first place.
•How fast each carrier's average speed was. This is real-life speed, a combination of LTE whenever the team could access it and speeds from legacy networks included in the measurement when LTE was not available.
•How often the test speeds surpassed 5 Mbps. Actual, real-world performance is what matters, not the LTE label.
•How often RootMetrics experienced a data failure on each network. The fact that LTE is available might not mean much for real-world usage if frequent data failures are experienced.
The results are clear – just because a carrier advertises a market as LTE-enabled doesn't mean that its LTE service will always be available to the user in real-world conditions. The consumer's experience of a carrier's network is greatly impacted by data failure rates and other factors. The RootMetrics report on GigaOM shows that:
•For pure LTE download speed, AT&T has proven faster so far.
•Verizon, however, beat AT&T by a wide margin when comparing how often LTE a carrier's LTE network was actually available.
•While Verizon offered a slightly better average download speed, they outpaced AT&T by even greater margin when looking at average upload speed.
•Verizon also surpassed AT&T at consistently offering speeds above 5 Mbps, especially during upload testing.
•Both carriers performed well in the RootMetrics data tests, but Verizon was slightly better.
To compile this head-to-head comparison of AT&T and Verizon based on results using the above parameters, RootMetrics extensively measured performances across multiple LTE markets during the first quarter of 2012. Using off-the-shelf phones, the team tested both indoors and outdoors during the day and at night, ultimately generating more than 50,000 data tests to create the most comprehensive LTE report currently available.
About RootMetrics™
Bellevue, Washington-based RootMetrics is building a movement to create a more open mobile market that democratizes mobile performance data. Deploying a sophisticated smartphone application, RootMetrics partners with consumers to collect network signal strength and data throughput speeds, aggregating collected metrics into easy-to-understand maps that rate each carrier's performance. This comparative data provides transparency into comparative carrier performance down to the most granular levels. For more information, please visit http://www.rootmetrics.com.
About GigaOM
Founded in 2006, GigaOM has grown into the leading independent voice on emerging technologies and the disruption of media. The GigaOM news network's online audience of 5.5 million monthly unique readers relies on its definitive coverage of cloud, mobile, cleantech, consumer web and media. GigaOM Events bring together the people innovating, shaping and defining the ongoing evolution of the technology industry. GigaOM Pro offers the highest quality research and analysis of emerging technology markets and the companies making a difference in those sectors.