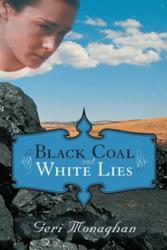 BROWNSVILLE, Texas (PRWEB) April 20, 2012
In her new novel "Black Coal and White Lies" (published by Abbott Press) Geri Monaghan reveals the hardships facing a young woman living in the conservative restrictions of the 1950s, following her from the small town expectations placed on her as a young woman to the stigmas associated with premarital sex and single parenthood.
Anna doesn't realize just how chaotic, strange and slightly wonderful her life is. Growing up as the youngest of five daughters in a small coalmining town in the 1950s isn't easy, but Anna's sisters, friends and family provide her with loving support. She makes the best of what she has.
Young, pretty and shy, Anna is a high school sophomore looking ahead to the rest of her life with hope and anticipation. But when the last of her older sisters moves out, loneliness begins to creep into her life.
Enter Ben and the return of her optimistic outlook on life. But with Ben comes a new set of troubles, including lying to her parents about his age – he is six years older than Anna – and sneaking around. She doesn't like deceiving her family, but dating older men is strictly forbidden, and it is the only way.
In her senior year, Anna is offered a job with the CIA in Washington, D.C. She makes plans to move after one final summer with Ben, but he then surprises her with an engagement ring and a proposal of a different sort. If she were pregnant, he reasons, no one would be able to stop them from being together. Now Anna must decide just what price she is willing to pay to be with Ben.
About the Author
After earning her bachelor's degree in business administration, Geri Monaghan built a career as an MIS/technology coordinator. Now retired, she is enjoying a second career as a writer. She has four daughters and lives in Texas with her husband, Art. Together, they summer in Vermont.
Abbott Press, a division Writer's Digest—the oldest and most respected publisher devoted to the education and advancement of writers—is an indie-publishing imprint dedicated to helping writers bring their literary vision to print. Author Solutions, Inc., a leader in indie book publishing, will fulfill publishing, sales, and marketing services for Abbott Press. For more information, or to begin publishing a book today, log on to abbottpress.com or call 866-697-5310.