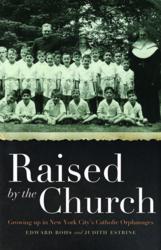 Brooklyn, NY (PRWEB) April 19, 2012
Howe's New York - the weekly BlogTalkRadio show hosted by New York Real Estate Attorney and Rocket Lawyer Attorney of the Year Robert Howe- welcomes Ed Rohs to the show tonight at 6:00 PM EST. Mr. Rohs is the co-author of Raised By The Church, his autobiography, published by Fordham University Press, on the life of an orphan in post World War II Brooklyn, New York. Howe's New York focuses on local events of Bay Ridge, Brooklyn, New York and real estate issues both locally and across the nation.
Raised by the Church - co-written by Judith Estrine -chronicles the extraordinary life of Ed Rohs, a bright, mischievous boy who was raised in five institutions of the Catholic orphanage system in postwar Brooklyn, New York, from infancy in 1946 until he was discharged as an adult in 1965.
Edward Rohs coordinates mental health service for the New York City Field Office of the New York State Office of Mental Health. He is a former psychotherapist and social worker for abused and abandoned children and their families. Ed's skill at interacting with people of all ages across cultures, combined with his irreverent sense of humor, has made him a much-loved role model and mentor to generations of children and their families.
Robert Howe has been practicing law in Bay Ridge Brooklyn for over 30 years and serves as President of The Merchants Of Third Avenue. He specializes in real estate law, refinancing, wills, family court and healthcare proxy. He is very active both in the community and on social media on Facebook, Google+, and Twitter.