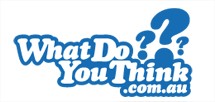 Since the start of this year, our monthly rewards to members have almost doubled.
Sydney, Australia (PRWEB) April 20, 2012
What Do You Think, the 100% Australian loyalty rewards program has given its members more than $2 million in the past two years and the members are currently redeeming around $70,000 per month in rewards.
The program rewards members with points – with each point equal to about 1 cent – for responding to polls and surveys, for reading marketing messages sent via email, and for taking up offers and making purchases that are relevant to them.
Active members are redeeming around $20 in cash every one to two months, said Nicholas Rabbidge, marketing manager of WDYT.
"Our members are telling us that $20 injected into the budget every month or two is very welcome, for extra petrol or groceries, for a treat for mum or the family, or for special projects such as home renovations."
WDYT members are able to tap into a fund of marketing dollars provided by the companies who want to know members' opinions and feedback, and want to deliver their marketing message straight into a member's email inbox.
"Since the start of this year, our monthly rewards to members have almost doubled," said Rabbidge. "This shows our members are really embracing sharing their opinions and taking part in the WDYT rewards program."
WDYT is rapidly expanding its membership and encourages any Australian with a few minutes spare each day to sign up and experience the benefits.
"Our members say for the effort of a few minutes each day they are well rewarded," Rabbidge said. "Anyone can do it."
WDYT.com.au is now accepting new members to take part in paid surveys and receive email messages.
CONTACT:
Samantha Tannous, Relativity Communications, 0416 104 033, samantha(at)relativitycommunications(dot)com
Nicholas Rabbidge, WDYT, 0412 134 792, Nicholas(dot)rabbidge(at)empoweredcomms(dot)com(dot)au
About What Do You Think (WDYT)
What Do You think, http://www.wdyt.com.au, is an Australian loyalty rewards programs whose members are rewarded by completing paid surveys, reading marketing emails and taking up special offers. WDYT is currently rewarding members with around $70,000 each month in cash. WDYT has partnered with more than 60 retailers who reward WDYT members with points for shopping. As well as cash rewards, members can choose movie tickets or gift vouchers to a range of retailers as their reward.
What Our Members Say About What Do You Think
"I personally LOVE the WDYT program. It makes my day go quicker and gives me something to look forward to each day when I check my email account every morning."
Se-anne, Aveley WA
"I am a member of a few different rewards programs but I must admit that WDYT is the best. It is a genuine rewards program that honestly delivers the rewards you earn quickly and efficiently. It is a great way to make a few extra $ from home. Thanks WDYT!!!"
Lisa, Largs Bay SA
"Thank you for the update of your website it is much more user friendly than before & the rewards are a great surprise just for doing what I love."
Shane, Erina NSW
"There is something for everybody of all ages - movie tickets, Bunnings / Kmart cards & best of all CASH!!!"
Roslyn, Bribie Island QLD
"$20 cash deposited into bank account for something to spoil me like a movie I wouldn't normally go see or lunch with friends."
Skye, Flagstaff Hill SA
What our Members are Buying with their Paid Rewards
"It's a bit extra for our renovations" - Lisa
"I use my rewards to help my daughter-in-law and her young family" - Roslyn
"Movie tickets!" - Premala
"It helps offset the rising cost of living" - Bill
"I save the gift cards to help out at Christmas time" - Tracy
"I enjoy spending it on myself" - Nirmala
"Little extras for around the home" - Skye
"It helps out with daily expenses like groceries and petrol" - Alan