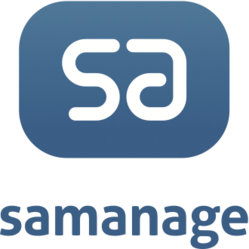 Moving to the cloud is a given for us and the IT Service Desk is a prime candidate.
Cary, NC (PRWEB) April 20, 2012
SAManage, the leader in cloud-based, integrated IT Service Desk and IT Asset Management software, reports a significant increase in subscriptions from schools during the last quarter. "Education has always been a strong market for us," said Doron Gordon, Founder and CEO of SAManage. "The activity level picked up even further over the past ninety days, mainly driven by the need for an easier to use and easier to maintain solution."
"We had been using Numara Software for many years. To us, two things kept increasing - the difficulty of managing the application and the cost," said Kathi Jesse, Technical Support Specialist at Binghamton University in Binghamton, NY. "We reached a stage where we felt that we had to look at what the market offers today. Moving to the cloud is a given for us and the IT Service Desk is a prime candidate. Finding a solution that neatly integrates IT Asset Management with the IT Service Desk made our decision so much easier," concluded Ms. Jesse.
There are constant themes in why schools have either moved asset management and service desk to the cloud or are in the planning phase to move:
Lower total cost of ownership.
Better management of a wide array of computing devices used by faculty and students.
Enhanced collaboration between users and service desk technicians.
More flexible self-help through a versatile end user portal, accessible from any mobile device.
Increased efficiency of service desk technicians through the use of a modern interface, including social capabilities.
"During the first quarter we introduced pricing and on-premise replacement flexibility that helped schools move away from their legacy products," said Mr. Gordon. "Our Cloud for Clunkers replacement program allows us to build compelling offers for our education customers, many of which are locked into multi-year commitments with legacy vendors. We work within the school's existing maintenance budget and also support them by "buying out" all or portions of existing contracts. This makes an upgrade to cloud technology feasible within the constraints of tightening budgets."
Schools that moved to the cloud with SAManage during the past quarter included University of Portland, College of the Holy Cross, Santa Clara University and Knox County Schools, to name a few.
About SAManage
SAManage provides SaaS IT asset and service management solutions that help organizations better control their IT inventory, organize licenses and contracts, detect risks and license compliance gaps and implement an IT Service Desk. SAManage empowers companies of all sizes with IT management capabilities that were previously available only to large organizations, making it easy to automate and simplify the daily tasks associated with establishing IT governance, control, compliance, and user satisfaction. Visit samanage.com to learn more.