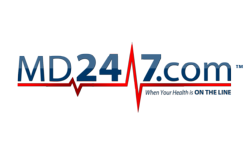 MD247 also protects your pets.
Tampa, FL (PRWEB) April 19, 2012
Telemedicine provider MD247.COM sent out notice to program members on Wednesday April 18, 2012 alerting members that they are now capable of providing discounted healthcare options for their four-legged friends. The program referenced in the MD247.COM notice to program members is a discount on veterinary services, a discount on pet care products and participation in a lost pet recovery service under a service called Pet Assure. The services available under Pet Assure have been rolling out to MD247.COM program participants over the last several weeks, and have now reached market saturation.
A new product available to MD247 program members who have opted-in under the newly available Pet Assure services is the flea preventative medication Comfortis. This medication, which is administered orally, is designed to kill fleas which may attempt to feed on either a cat or a dog. As Comfortis is a prescription pet medication, requiring a visit to a veterinarian in most states, MD247 program members who have opted-in under the Pet Assure Services can receive up to a 25% discount on the product.
MD247 and Pet Assure provide program members easy access to a medication which:

Cannot be washed off or applied incorrectly.
Only needs to be given to a pet once every month.
Is long-lasting, and prevents the chance for flea infestations.
Seminole Florida based MD247 (MD 247; MD/247; M.D. 247; MD247.COM) provides discounted telemedicine healthcare services nationwide to families, and discounted wholesale telemedicine healthcare to businesses. MD247 has successfully provided 25,000 people the ability to talk to a doctor twenty-four hours a day, talk to a nurse twenty-four hours a day, receive discounted prescription drugs and receive discounted in-person healthcare services. In addition to discounted healthcare services, MD247 provides support to groups supporting the employment of veterans of the United States Armed Services. MD247 services, as well as informational blogs, can be found for review online at http://www.md247.com.