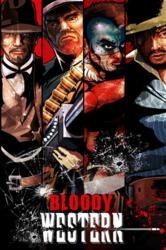 Atlanta, Georgia (PRWEB) April 19, 2012
Bloody Western from Mobicle, hits the iTunes App Store. This Old West themed SNG hopes to round up plenty of fans with its exceptional art, addictive game play, and engaging ambience. It promises to provide stiff competition for other network games and online worlds.
Set in the American Old West, Bloody Western allows players to choose between two iconic Old West roles: Sheriff and Outlaw. Within each of these categories, there are a number of classes to choose from which shape the player's initial stats and the quests and business opportunities they'll pursue. Bloody Western players will build their influence and reputation in the Old West through leveling quests and procuring gold—and by besting their fellow players.
Bloody Western is one of the hottest new entries into a market which is increasingly focused on social games. Gamers are focusing on games with friends and serious games which evolve as players commit their time and interact with one another. Bloody Western's Duels and Gambling modes provide a competitive way to interact with other players. Unlike some other similar games, Bloody Western ups the appeal of dueling other players by including interactive features in this mode—more than stats and random roles will determine the outcome.
Bloody Western is shaping up to be one of the most sought after iOS games for guys this season; it's a hard-hitting, beautifully illustrated, addictive option in the genre of online simulation games. It's available now, free, in the iTunes App Store.
Features:

Bloody Western brings the violence, charm, and adventure of the Old West to life with gorgeous, detailed illustrations, dark and edgy character design, exceptional voice-overs and a gunslinger-rules-all attitude
Choose your role: Sheriff or Outlaw, and further shape your character by choosing from the classes within each category
Quest-based game play: Level your character by completing creative quests designed and themed specifically to enhance your gameplay based on category and class
Connect with friends, and best your rivals with socially based gameplay, complete with interactive duels
Experience the Old West as it really was: Bloody Western is a no-holds-barred online world marked by the gambling, shoot-outs, and violent strong-arm society that made the frontier what it was
Explore the extensive item shop, outfitting your character with gear and equipment that improve gameplay results
Show off your gear by equipping your character profile, and strike fear in the hearts of your rivals
Accept the addiction: Fast-paced game play, quick results, and continuous upgrades make Bloody Western a race to the top
iTunes App Store: http://itunes.apple.com/us/app/bloody-western/id482532795?mt=8