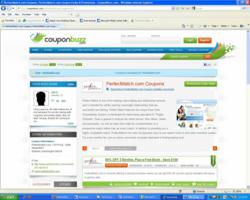 ...a lot of people are interested in trying out an online dating service, but in tough economic times, money is an undeniable factor.
Houston, TX (PRWEB) April 19, 2012
Months of membership, that is, not relationships. Today CouponBuzz.com is featuring a Perfect Match coupon that offers consumers an additional free month of membership to the relationship and dating service PerfectMatch.com with a 1-month paid subscription. While some individuals might think wistfully of the secure feeling an extra 'perfect match' on a back burner might bring, PerfectMatch.com is focused on getting it right the first time. The website proudly advertises their dating services are only for those individuals interested in "seeking successful, lasting relationships."
Based in Seattle, Washington, PerfectMatch.com tapped into the growing demographic of online dating service patrons who were fed up with casual hookups and meaningless meet and greets. Instead, they offered a service that pointedly discouraged enrollment by anyone not interested in commitment. With a capital 'C.' PerfectMatch.com advertised for, and found, a wide community of individuals who were serious about finding real, lasting love – via the internet.
"Online dating websites are an incredibly fast-growing market," explained Justin Bowen, a spokesperson for CouponBuzz.com. "One of the reasons we chose to create a special section dedicated to Perfect Match coupons is because of how much traffic they attract. Apparently a lot of people are interested in trying out an online dating service, but in tough economic times, money is an undeniable factor. With coupons like the current Buy One Get One Free enrollment months we are currently featuring, users can now try out the service for less financial outlay."
PerfectMatch.com uses a research-based questionnaire to provide data for their patented Duet Compatibility System, co-developed by relationship expert Dr. Pepper Schwartz. The questions focus on helping new enrollees to the website identify how eight specific personality characteristics play out within their own personalities, and how they value them in others. In addition, a lifestyle section of the questionnaire asks probing questions to determine how individuals feel about five big areas that research has revealed are powerful enough to make or break relationships; money, sex, children, core values, and social life.
By helping individuals determine more up front how likely a match is to succeed, PerfectMatch.com eliminates the point of keeping an extra girlfriend or boyfriend hidden away for a rainy day. But it is rather nice to have an extra month of enrollment added on for the price of one. Rushing things never ends well, whether online or in person. Taking a bit of extra time to browse potential matches or send thoughtful emails is always a good thing, so the current BOGO offer featured on CouponBuzz.com is well worth checking out at this link http://couponbuzz.com/perfectmatch.com-coupons.html.