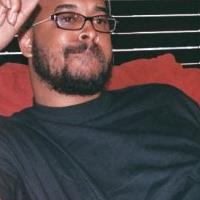 (PRWEB) April 20, 2012
"Snoop" Anderson, at first glance isn't your everyday filmmaker. Almost convicted of gun charges, watching his friends go to jail, and seeing his friend killed, Snoop went into a deep state of depression. When the producers of Lovers and Friends approached him with shooting his first film, Snoop saw the opportunity as a chance to turn things around.
And for their first feature film, Lovers and Friends available on DVD April 24, 2012, Producer Camara Davis and Director Anthony "Snoop" Anderson took on an unconventional love story with unusual main characters that many first time filmmakers would stay away from. But Snoop said it was exactly what he was looking for.
"I am an unconventional Director and I felt the producers took a shot with me so it made perfect sense, to me," Anderson stated.
The project was what Anderson needed to keep his mind focused. With a few years of Film school under his belt, Anderson quickly discovered that he was the most experienced crew member on the set.
Lovers and Friends was not only the first film for Snoop but for its entire production team. Producers decided to make this Detroit based filmed with mostly first time film makers who didn't believe what they were doing was impossible.
On a shoestring budget and 8 day schedule Lovers and Friends was filmed in various locations throughout Detroit, MI. including the Shrine of the Black Madonna Cultural Center. The film also stars Jonathan West, Nikita Turk and Legendary Detroit Rapper, Big Herk.
"Independent African American Dramas can sometimes be a hard sell, but the story had so much going on, I had to try to tackle it," said Snoop. "With my background, I could relate to the story. I understood what the characters were going through."
Lovers and Friends is a love story set in the streets of Detroit, about a 26 year old single mother with a 14 year old son struggling to accept love from the man seeking her.
Snoop assumed, with the film's small budget and no big name actors they were climbing an uphill battle, but he trusted the story. "Good stories and good topics get people talking. We just wanted to show the world these characters and see what happens from there. I don't think I've seen a character in a leading role like this on film before," said Snoop. "Love can be found anywhere and sometimes it gets complicated. And in this story it gets very complicated."
The producers of the film are hoping that the release of the film on DVD will show and continue to show the diverse work coming from independent filmmakers and highlight the great actors in the film. And as for Snoop, the film has already changed his life. He is steadily finding work in the industry. "I'm just grateful and ready to continue to do good work."
Lovers and Friends will be released on DVD April 24, 2012 throughout Wal-Mart stores across the country.
To stay abreast of all the latest production developments and updates at http://www.wctentertainment.com