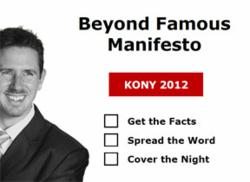 get the facts, spread the word & cover the night
San Francisco, California (PRWEB) April 19, 2012
Author & speaker, Patrick Schwerdtfeger, announced today the release of the "Kony 2012 Beyond Famous Manifesto" to support the #KONY2012 "Cover the Night" campaign on April 20, 2012. This 6-page PDF can be downloaded free of charge and is designed to help supporters maximize their efforts to make Joseph Kony 'beyond famous'.
The "Cover the Night" campaign is scheduled for April 20, 2012, and supporters are encouraged to post flyers everywhere they can during that day, while wearing Kony 2012 T-shirts. At the time of this press release, the video had been watched over 104 million times and over 3.5 million people pledged to participate in the campaign in 204 countries around the world.
"The awareness about Joseph Kony and the crimes he has committed is unprecedented," explains Schwerdtfeger, "and it is a classic example of the potential of social media." The 6-page "Beyond Famous Manifesto" attempts to contribute some small suggestions to help supporters spread the word even more effectively.
Interested supporters can download the PDF file on Patrick Schwerdtfeger's blog and they are encouraged to pass it along to others who might benefit from the same ideas and suggestions.
About Patrick Schwerdtfeger
Patrick Schwerdtfeger (@schwerdtfeger on Twitter) is a keynote speaker who has headlined events for Bloomberg TV, Bank of America, Comcast Cable, Research in Motion (BlackBerry), Time Warner Cable and United Healthcare among others, as well as dozens of conferences and conventions around the world. His programs focus on business trends, small business marketing and the social media revolution.
Patrick is the author of Marketing Shortcuts for the Self-Employed (2011, Wiley) as well as Webify Your Business: Internet Marketing Secrets for the Self-Employed (2009) and Make Yourself Useful: Marketing in the 21st Century (2008). He has been featured by the New York Times, LA Times, San Francisco Chronicle, CNN Money, Fortune, Bloomberg Businessweek, the Associated Press, MONEY Magazine and Forbes, among others.
Patrick is available for television appearances and media interviews. He can be contacted through his website: