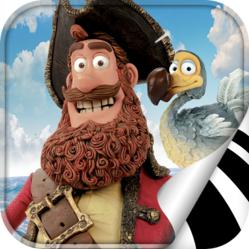 It's a plunderful life!
(PRWEB) April 19, 2012
iStoryTime today released The Pirates! Band of Misfits storybook app. Available for iPad, iPhone and iPod touch, The Pirates! Band of Misfits movie storybook app licensed to zuuka by Sony Pictures Consumer Products is perfect for young readers. The 3-D animated family comedy from Sony Pictures Animation and Aardman will be released in theaters on April 27, 2012.
Tugging at young readers' imaginations, the storybook app includes a "Piratize Yourself" feature that allows them to utilize the face tracking features of iOS 5 to make themselves look like a pirate in real time. Piratize Yourself works with both the back facing camera to capture their parents or their friends as well as front facing camera to take a photo of themselves. Throughout the storybook app, readers will also be in search of eight hidden prop items that they need to collect in order to win the coveted "Pirate of the Year Award."
The Pirates! Band of Misfits follows the luxuriantly bearded Pirate Captain - a boundlessly enthusiastic, if somewhat less-than-successful, terror of the High Seas. With a rag-tag crew at his side, and seemingly blind to the impossible odds stacked against him, the Captain has one dream: to beat his bitter rivals Black Bellamy and Cutlass Liz to the much coveted "Pirate Of The Year Award."
It's a quest that takes the heroes from the shores of exotic Blood Island to the foggy streets of Victorian London. Along the way they battle a diabolical queen and team up with a haplessly smitten young scientist, but never lose sight of what a pirate loves best: adventure! The film is directed by Peter Lord and produced by Peter Lord, David Sproxton, and Julie Lockhart; the screenplay by Gideon Defoe, based upon his book The Pirates! In an Adventure with Scientists.
Pricing and Availability:
The Pirates! Band of Misfits Storybook app is available for $3.99 from the App Store on the iPad, iPhone or iPod touch.
About zuuka
zuuka publishes zuuka comics, iTalk and iStoryTime - an interactive storytelling experience delivered to the convenience of your mobile device - which features a series of illustrated and narrated books created by parents for kids. iStoryTime books have been highlighted in the New York Times, LA Times, CBS Early Show, theiPhoneMom.com, CNET and is decorated with Publisher's Innovation Award, PTPA Media's Parent Tested Parent Approved Seal of Approval, the Children's Technology Review's Editor's Choice Award and Reader's Choice for Best Apps for Kids. With over 100 titles to choose from including favorites such as Kung Fu Panda, Shrek, How to Train Your Dragon, Peter Pan and Binky the Pink Elephant, iStoryTime books are excellent tools for both educating and entertaining children ages two years and up. These storybooks can be enjoyed in several different modes ranging from automatic to manual, depending upon the development and preferences of the user. For additional information, visit http://www.iStoryTime.com.
About Sony Pictures Consumer Products
Sony Pictures Consumer Products manages the studio's film and television merchandising, licensing and retail opportunities for Sony Pictures Entertainment Inc. for current and library properties by working with manufacturers (licensees) and retailers to create quality products and services and increase consumer awareness.