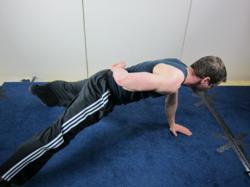 Making the most of the time allotted each day has become somewhat of an obsession with hard working Americans.
Tempe, Arizona (PRWEB) April 19, 2012
A middle aged woman rubs her sore knees wondering if she can stay on a workout plan long enough to get that much needed metabolic boost. A gymnast used to working out for several hours each day has retired from the sport and is looking for a way to get a high intensity workout without gymnastics equipment. An elite athlete is looking for variation with training so that workouts can be adapted to different conditions independent of weather or location. How do fitness minded people address these issues?
Aaron Ormiston and Josiah Grimes co owners of Victa Creations LLC have come up with the solution for each of these fitness needs. The high intensity, low impact 20-30 minute workouts are the wave of the future. Each exercise routine can be adapted to fit those with joint problems and those needing the highest level of intensity possible in the smallest amount of space. Get rid of the notion that expensive equipment is needed and start to implement the practical approach to everyday fitness. Feeling good as individuals invested in a successful fitness program will be the catalyst for positive change throughout the world according to the Victa gurus.
Making the most of the time allotted each day has become somewhat of an obsession with hard working Americans. Get the most bang for your buck seems to be resounding more often lately. Feeling a day late and a dollar short leads to the tendency to eliminate the very practice that helps all feel more productive and less stressed out. According to medical experts the need for practical ways to incorporate exercise into adulthood is the key to extending quality of life.
Grimes and Ormiston propose that they can change the world through fitness by making the most powerful, fun, effective and time sensitive workout proagram available on the Internet. Accessibility and affordability for any activity level is the name of the game with the Victa home workout. The workout is unique because of the rotation in muscle group focus as the routines progress. It is a calendar-based program that provides targeted workouts for as many days a week as desired. The home workout program includes professional video demonstration of all involved exercises.
Too many Americans take a look at their pocket book and think that an investment in a regular work out routine is too costly. The professionals with HomeWorkoutPros.com have a special, limited time offer for a lifetime membership with access to training videos and incredible workout routines for a reasonable price. These are optimized training regiments designed to help you get the fastest and most distinctive results. The original price for membership is more expensive so this introductory offer is a price that can't be beat and wont last long. The HomeWorkoutPros.com team offers a 100% satisfaction money back guarantee within 30 days of purchase.
Visit the website at http://homeworkoutpros.com and join the Victa workout team. To learn more about how to be part of the change in the world through personal fitness email a team member at admin(at)homeworkoutpros(dot)com. Victa Creations LLC is locally owned and operated at 1 East Washington Street Suite 500A Phoenix, Arizona 85004.