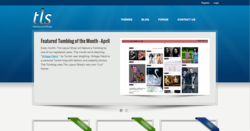 We hope to start a little community of sorts
Los Angeles, California (PRWEB) April 20, 2012
After a month of work and preparation on a new design and new features, The Layout Shop has officially launched its new website. Along with the new design come new sections to the site; the blog and forum sections. New themes Tumblr are expected to come next.
The new site design features a streamlined look, sporting a modern blue and white combination that's easier on the eyes compared the old dark grey look. Website manager Nicolas Camp says, "We were going for a brighter look to match the bright new direction that we are taking with the site."
One the new website's new major features is its blog section. The blog section will feature news and articles on the blogging and social media landscape. "With this, we aim to keep our users informed and up-to-date" says Camp.
The other feature in the brand new redesign is the forum section where users can posts comments and concerns. The forum section is maintained by the site operators themselves. Lead Web Developer Ken Morales says, "We hope to start a little community of sorts with the forum. We might add user profiles in the future too."
The new Layout Shop also features a "Tumblog of the Month" by Tumblr users who have one of the website's themes installed on their blog. "We want to encourage users who have purchased any of our offered themes to be creative with them."
The website's management team says that the next step for them is to put up new themes to offer their users. The team also intends to develop other features to help build a user and developer community within the website.
About The Layout Shop
The Layout Shop is an online Tumblr theme store specializing in professionally made, customizable premier and free themes for Tumblr. The site also features a tech blog about blogging and social media.