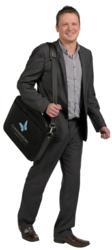 it is estimated that the combined turnover of all Conservatory Outlet dealers exceeded £8m in March.
(PRWEB UK) 21 April 2012
Conservatory Outlet, the fabricator supplier to the Conservatory Outlet Network of Dealers, recorded its highest ever financial order intake in March following a record month for the number of online leads it generated in January.
The two statistics are thought to be no coincidence according to Conservatory Outlet Sales Director Greg Kane; 'Clearly, a large proportion of the record number of leads we generated in January have been successfully converted into retail sales by Conservatory Outlet dealers who have, in turn, ordered more double glazing and triple glazing windows, doors and conservatories from us – it's a perfect example of the mutually beneficial relationship that we have with our dealers.'
The main websites belonging to Conservatory Outlet generated a total of 1200 leads during the first month of 2012, with individual dealer websites – over 20 individual sites, all provided free of charge by Conservatory Outlet – generating in the region of 4,500 enquiries during the same period. The online leads generated by Conservatory Outlet are sent automatically to the regional dealer for that area within seconds of the enquiry being made, giving sales staff the best possible chance of arranging a set appointment.
Many of the sales advisors from the Conservatory Outlet Network of Dealers are also currently undertaking a programme of retail sales training, run by Paul Clifton and funded by Conservatory Outlet, with the aim of further improving conversion rates at every stage of the sales process.
Following the record month for online enquiries in January, Conservatory Outlet processed an average of 275 frames every working day in March – edging closer to 300 frames per working day in April - not to mention orders for roofs and glass which all contributed to the company's best ever month for order intake. The influx of orders came from existing and long standing Conservatory Outlet Dealers, as well as those installers who have joined the network in recent months, and it is estimated that the combined turnover of all Conservatory Outlet dealers exceeded £8m in March.
'Installers do experience an early benefit when they join the Conservatory Outlet Network, but thanks to the regular introduction of new products and initiatives long-standing Conservatory Outlet dealers continue to prosper as well. Our record month in March was a result of the increased sales of installers who have been with us for anything from 5 months to over 5 years,' said Greg.