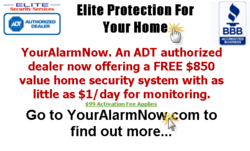 Nation's Favorite Home Security Systems Company Announces 20% Discount on Homeowner's Insurance With All their Packages
(PRWEB) April 19, 2012
Yet another excellent added benefit has been introduced for their home security systems customers by Elite Security Services. The customers purchasing any of the domestic protection plans from the company can now avail a 20% discount on their homeowner's insurance policy. Elite Security Services offers low cost security plans for households throughout the United States and Canada. They have done well so far to establish themselves in the industry within a very short tenure. The comprehensive range of economical security packages from Elite Security Services have now emerged as one of the most trusted security solutions in this region.
The competition in the home security systems industry has increased drastically over the years. Many companies now provide several added benefits for customers signing up for their security plans. Elite Security Services has been offering a number of lucrative freebies for their customers from the very beginning. Home insurance policy is very important for the owners because it provides them protection against any type of property damage or loss pertaining to their house. Offering a sizeable discount of 20% would definitely help Elite Security Services to increase their market presence in the months to come, opined the leading security experts in America and Canada.
Elite Security Services was formed in the year 2011 by eminent home security specialist Mr. Paul Shakuri. After introducing the 20% discount offer on homeowner's insurance, he said, "We are very happy to announce this discount offer. We expect this discount to be extremely helpful for all our customers". He also added that his company would continue to offer more and more this type of schemes for their home security systems users. Elite Security Services presently offers three home protection plans with the cheapest one having a monthly rental of only $35.99 per month.
About the Company: Elite Security Services is a rapidly growing company in the home security industry. They offer highly efficient and economical home security solutions in America and Canada.
Contact
Paul Shakuri
Phone: 800-880-9569.
Website: http://www.YourAlarmNow.com