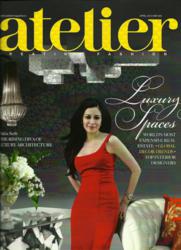 A house should be an amalgamation of luxury and comfort reflecting timeless design so that it does not look like a museum..
(PRWEB) April 21, 2012
Blessed with beauty, an elegant sense of style and keen business acumen, Faiza Seth has proved her mettle with her luxury interior design and décor firm Casa Forma. The London-based interiors prima donna shares her journey with Vandana Rana in April 2012 edition of Atelier magazine in India.
She was born in Hyderabad, raised in Chicago, worked in Hong Kong and is now settled in London, no one can argue about Faiza Seth's credentials as a true global citizen. The founder and CEO of luxury interior design firm Casa Forma, Faiza says that the experience of living in different cities of the world broadened her intellect, and her journeys shaped her personality. Her time in the US taught her the ethics of hard work, perseverance and leadership qualities. Her Indian culture instilled in her a sense of pride for family values, warmth and an understanding of relationships, appreciation for society, art and history. As the London-based American businesswoman says, "I have been lucky, and have tried taking the best from the cultures of each country."
After acquiring a Bachelor's degree in Economics from Northwestern University and a Master's in Business Administration from Stanford University in 2006, Faiza embraced an opportunity to become an entrepreneur in luxury property development in super-prime London locations. "I was interested in taking advantage of the booming property market in 2006 in super-prime locations of London, which has long-term growth prospects due to international demand and limited supply," shares Faiza. With an award-winning team of architects and interior designers behind her, she launched the bespoke luxury interior and architectural design brand Casa Forma. Now in its fifth year, the firm offers opulent customised design services to clients combining the best of global styles and quality. Erika De Carvalho, the design director for the brand says, "The trade name Casa Forma grew from our belief in uncompromising luxury. Over the years, it has developed hand-in-hand with our design services making it stronger and reliable." The brand also works on culturally inspired concepts to carve aristocratic collections. Their projects in India are infusions of London design sensibilities with India-inspired elements. It is with this very distinctive approach that Casa Forma was the recipient of two International Design and architectural Awards in 2011.
Faiza's own home in London is no less that an extension of her penchant for décor. Her triplex apartment features immaculate touches such as timber-panelled walls alongside metallic elements and hand-cut crystal.
Faiza is driven by the process of learning and evolving intellectually. Now that her brand has made its strong presence felt in the market, this entrepreneur ensures she is a role model and a positive influence. She also feels strongly for social causes, and endeavours to provide quality education to the underprivileged. Her charity school Soham for Kids, in a village hear Hyderabad in India, works to educate deprived and orphaned children. "Education helps people obtain the skills they need to provide for themselves and their families. I take a holistic approach with Soham for Kids students by not only providing them with an education, but also with essential nutrition and healthcare," she explains. For this effort, she was awarded the Asian Women of Achievement award 2011 and the Social and Humanitarian Award.
Erika observes that home décor trends are shifting towards creating opulent, yet bespoke furniture. "I think we are finally seeing the demise of the faceless mass-produced, hotel room-style interiors," she shares. On her part, Faiza believes, "A house should first and foremost be a home, so it should be adapted to your lifestyle, personal style and tastes." A design is complete when it has the owner's touch. More than a trend, a house should be an amalgamation of luxury and comfort reflecting timeless design so that it does not look like a museum, where people use only one room of the house and the rest is for 'display', she advises.
Faiza is now looking to expand Casa Forma geographically and vertically into various other sectors such as aviation, yachts, commercial and hospitality properties. For this woman with a vision, the whole world is her design board.