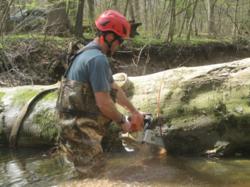 "Getting such large trees out of the water was a challenge," explains Drew Slousky, ISA Certified Arborist and Giroud Vice President. Our voluneer team stood in the water to complete the tree removal
Huntingdon Valley, PA (PRWEB) April 20, 2012
Hazardous tree removal from the Pennypack Creek was the focus of Giroud Tree and Lawn's donation of $2,880 in volunteer time and equipment to the Pennypack Ecological Restoration Trust. The donation was made in recognition of Earth Day which is Sunday, April 22.
Two giant beech trees had fallen across the Pennypack Creek," says Kirk Laule, Pennypack Trust Groundskeeper. "The trees spanned the entire Creek and were beginning to form a dam. We were concerned about a potential flood hazard and are grateful for Giroud's donation of the tree removal."
"Getting such large trees out of the water was a challenge," explains Drew Slousky, ISA Certified Arborist and Giroud Vice President. "Our volunteer team which also included Giroud ISA Certified Arborists Mike Teti and Rob Nagy, had to actually stand deep in the water to complete the tree removal with the help of our 16 ton crane."
Watch the video as Giroud volunteers and ISA Certified Arborists, Drew Slousky, Mike Teti and Rob Nagy work in the Creek for the tree removal; cutting the trees into large pieces and maneuvering them into position for removal with Giroud's crane.
Giroud Tree and Lawn donated its services to Pennypack Ecological Restoration Trust through the "Giroud Treework for Charity" program, which contributes tree care services to parks, historical sites and other nonprofit organizations located in Bucks, Montgomery and Philadelphia counties. The program was established in 1997 to help local nonprofit organizations preserve their irreplaceable trees. It has already provided free tree care to more than 25 area organizations. Giroud welcomes applications from any 501(c)3 organization located within Giroud's service area that is open to the entire community on a nonsectarian basis. For more information, visit the website or call 215-682-7704.
About Giroud Tree and Lawn
Giroud has been dedicated to keeping trees and lawns healthy and customers happy since 1974. Serving Bucks, Montgomery and Philadelphia Counties, the company specializes in professional tree and lawn evaluation, tree and shrub care, insect and disease control, fertilizing, tree removal, stump removal and traditional and organic lawn programs to keep lawns healthy and green . Giroud Arborists are certified by the International Society of Arboriculture (ISA) and have the knowledge and experience required to properly diagnose, treat and maintain trees and lawn health. The company has been awarded the Angie's List Super Service Award® every year since 2005. The "Giroud Treework for Charity" program donates free tree care services to parks, historical sites and other non-profit organizations located in the Company's service area.
For more information, visit their website at http://www.giroudtree.com or call them at 215-682-7704.
About Pennypack Ecological Restoration Trust
Founded in 1970, the Pennypack Ecological Restoration Trust is a private, non-profit land trust located in Huntingdon Valley , Pennsylvania, 15 miles northeast of central Philadelphia . As the steward of 809 acres of protected meadows, woodlands and floodplain forest, the Trust manages Montgomery County 's largest privately owned natural area that is open to the public. The lands within the Trust's natural area, the Pennypack Preserve, are located in the townships of Abington, Upper Moreland and Lower Moreland and in the Borough of Bryn Athyn. Over 1,200 dues-paying members support the Trust, and the preserve hosts 20,000 visitors annually. For more information, phone Pennypack at 215-657-0830, or visit pennypacktrust.org