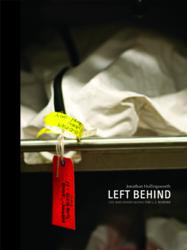 Photographs are powerful tools to capture 'moments in time', elicit emotion, and in this instance, visually illustrate the struggles individuals face in this period of immigration history in the US," said Dr. Gregory Hess, Chief Medical Examiner
New York, NY/ Stockport, England (PRWEB) April 23, 2012
Between 2001 and 2011, 1,911 foreign nationals have died in the deserts of Southern Arizona. All have passed through the doors of the Pima County Forensic Science Center in Tucson, AZ, which faces the task of analyzing and storing their remains, archiving their possessions and hopefully determining their identities.
With his latest work — Left Behind: Life and Death Along the U.S. Border — documentary photographer Jonathan Hollingsworth delivers a sobering look at the illegal immigrants who do not survive the Arizona border crossing and the personal effects they have left behind.
"Photographs are powerful tools to capture 'moments in time,' elicit emotion, and in this instance, visually illustrate the struggles individuals face in this period of immigration history in the United States," said Dr. Gregory Hess, Chief Medical Examiner, Pima County Forensic Science Center.
The photographs take the viewer on a journey through the day-to-day operations of the medical examiner's office — documenting the receiving area, autopsy room and archive of border crossers' personal effects. Attention is also given to Green Valley, AZ, through the examination of belongings left on the desert floor by border crossers.
"This book is a way of humanizing the immigration issue we face in the United States," said Jonathan Hollingsworth, photographer. "It also stands as a memorial to the people who died alone, without ceremony and who often are still unknown."
The first edition of Left Behind: Life and Death Along the U.S. Border will be available in October 2012 from Dewi Lewis Publishing. The book is available for pre-order now from Amazon.com. For a selection of images from the book and a video, visit http://www.jonathanhollingsworth.com.
About the Artist and Publisher
New York-based, Jonathan Hollingworth's previous photographic series, What We Think Now, documented young Americans' response to the Iraq War, and was published as a catalogue and exhibited at the California Museum of Photography, Santa Fe Art Institute, Center for Photography at Woodstock, and Houston Center for Photography. His work has been published widely including The Sunday Times Magazine and Photo District News.
Founded in 1994, Dewi Lewis Publishing is internationally known for its photography list. Its authors include a number of the leading British and international photographers such as William Klein, Martin Parr, Simon Norfolk, Fay Godwin, Tom Wood, Sergio Larrain, Frank Horvat, Susan Lipper, Claudio Edinger and Bruce Gilden.