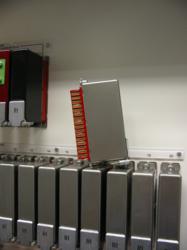 Considering the superior durability features of our design and construction, these connectors and backshells offer low initial and life cycle cost over comparable connectors.
London, UK (PRWEB) April 21, 2012
The ITW McMurdo Red Range is the original heavy duty rectangular rack and panel line to line/panel connector with low insertion and withdrawal forces, but has lacked the availability of a cable end backshell. Red Range connectors are designed for use in rugged conditions where long life, stainless steel mounting plate, blind mating and self-wiping 5 Amp, hard acid gold plated contacts are their prime benefits, with a very long life expectancy in the mated state, so they require a backshell to match that expectation and the In2Connect solution now fills that gap. The new hoods are made from light grey powder coated, folded aluminium and have a standard nylon compression gland cable entry.
The standard, barrier (bump) polarised style is available in either Nylon Phenolic for normal environments (80°C), or Diallyl-Phthalate DAP (100°C) for more severe environments; whilst the barrier polarised types are available in both as 16 way, but DAP only in 24 and 32 way versions.
The moulded Nylon insulator of these panel connectors will withstand -50°C to 100°C. Rugged and heavy duty they are superb in industrial/commercial equipment like bank ATM, vending and office machines, gaming equipment, mobile radios, TV cameras and industrial control applications where larger gauge wires of up to 16AWG are required.
Two wide, positive pressure contact points produce a self-cleaning and wiping action to keep surfaces clean for low-resistance and continuity. Both solder eye and PCB mount contact tails are possible. The strong, low insertion force, contacts are also designed such that the plug and socket will self-align. This makes them ideal as power edge card connectors for inaccessible applications such as the rear of sliding trays and panels, on cable ends or even as battery connections in hand held measuring instruments. They have been specifically designed to prevent misalignment and damaged contacts in such "blind" mating.
These cost efficient rack & panel connectors from In2Connect UK are capable of handling 5 Amps per contact (all contacts simultaneously) at 100°C ambient and 750V rms.
Features:

Rugged construction
180 degree polarised
Keyway or dowel polarised for blind mating
Floating bushes to assist alignment when used in the rear of card racks, etc
Excellent current carrying 'self-wiping' contacts
PCB or cable mounted
Available in 4 sizes from In2Connect stocks
8 way – keyway (bump) polarised
16, 24 & 32 way – bump or dowel polarised.
New connector hoods available from stock for all 4 sizes
Low initial and "life-cycle" costs compared to alternative interconnect options
Mechanical Operations - 500 min. to upper figure dependent upon mode of usage
Similar to the Amphenol 26 Series "Blue Ribbon" connectors
…………………………………….
Since its formation in 1998, In2Connect UK Ltd has supplied commercial, industrial and military connectors worldwide. With over 40 years' experience in cable and connectors, we provide effective solutions to PCB and cable-end interconnect challenges ~ from d-subs to multipin rectangular and circular, filtered and hermetic connectors, backplane connectors and edgecards; custom cable assemblies and optical fibre. Our website at http://www.in2connect.uk.com was created to provide customers with fast and easy access to the connector ranges we produce or handle. Acrobat files of datasheets may be downloaded from the product page for individual connector product lines which include edgecard connectors, d connectors, waterproof d connectors, d connectors filter, combination d sub, connector accessories, 2mm Hard Metric backplane, PC 104, HE 801 2 part PCB, DIN 41612 connectors, rack and panel, IDC, micro connector 2mm, DIN 43650. Extreme temperature cables, medical cables, flexible cables, air and space cables, control cables, UL/CSA, fibre optic cables.
Tel: +44 (0)1962 773004 | sales@in2connect.uk.com | In2Connect UK Ltd
Bob Hart
Unit 5, Home Farm, Petersfield Rd, Ropley, Hampshire, SO24 0EF, UK