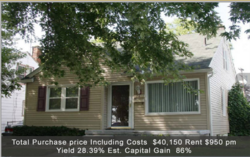 This is a once in a generation opportunity for Australians
Brisbane, Queensland (PRWEB) April 26, 2012
As this week's Australian Investment property update from industry expert Michael Yardney pointed out, "property markets are likely to remain soft this year," yet Brisbane based Property Investment Company USA Foreclosures is achieving 20% Yields and 50% Capital gains for its clients. This situation comes about due to 2 unprecedented scenarios unfolding, the speed of economic recovery in Michigan as discussed this week in the Detroit Free Press and the continuing glut of foreclosed properties owned by banks in the state of Michigan.
With their Head Office in Brisbane,Queensland and working with one of America's largest real estate brokers focusing on bank owned quality properties in upwardly mobile residential areas, USA Foreclosures Pty Ltd is creating a win win by facilitating cash rich Australian investors to buy cheap American real estate and reduce the Banks' balance sheet of foreclosed properties in return for very substantial yields.
Managing Director Phil Gerathy says, "We have assembled a team over the last few years that has a great track record of integrity and experience and our network of inside contacts allows us a unique opportunity to offer to our clients."
One such member of the USA Foreclosures team is a man who has seen it all, Dennis Dickstein, a 40 year (3rd generation) Michigan real estate agent, who is more aware than anybody of the incredible once in a lifetime opportunity 2012/13 brings in the form of bank owned foreclosed real estate.
USA Foreclosures has focused on the very best market in America (A PNC Bank survey this month revealed that 35% of businesses in Michigan are planning to hire in the next 6 months.) and has generated key relationships to make sure only the best properties are offered to their clients. The state of Michigan was absolutely crucified by the GFC (Comerica Bank's Michigan Economic Activity Index rose to a level of 98 in 2012 63 percent above the index low of 60 in 2009), it has a huge dependency on the Motor Car industry which in 2007/8 had been decimated only to be bailed out by the US government. Sadly this period caused great problems for this iconic part of the world, but now the opportunity to own homes that once sold for $200,000 at a massive discount is there. Such properties are now being given away by banks desperate to lighten their balance sheets for $50,000 with annual rental incomes of $10,000.
IDEAL FOR SELF MANAGED SUPER
Phillip Gerathy who has spent a lifetime in the Financial industry said, "This is a once in a generation opportunity for Australians to invest. Self managed Super Fund holders or people with a line of credit or cash have an incredible situation to take advantage of because the Michigan economy is recovering yet Bank Owned Foreclosures in good residential areas are still widely available if you are on the inside."
In 2009 Unemployment in the state of Michigan hit 14.3% yet as reported by the US Bureau of Labor statistics this week it is now down to 8.5% and falling as GM recorded the highest profit figure in their 103 year history and business across the board starts to gain more traction.
ABOUT USA FORECLOSURES PTY LTD
Mr Phillip Gerathy who had been involved in the Financial Services industry for over 30 years commenced purchasing foreclosed US properties early in 2009. His company Austplan USA Pty Ltd was the first model of what would ultimately become USA Foreclosures Pty Ltd. To see some case studies of michigan investment properties handled by USA Foreclosures go to http://usaforeclosures.com.au/case-studies