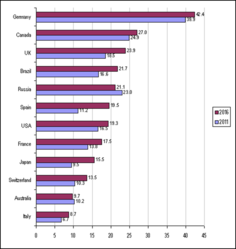 The generic drugs business is being squeezed....
...The trend towards a rationalised market more in step, rather in court, with the branded industry is set to continue
Chichester, West Sussex, UK (PRWEB) April 24, 2012
According to a new Espicom report, The World Generic Market Report, the global markets for generic drugs will continue to grow despite cost containment pressures from health payers in many markets.
While the generic market will grow overall, distribution will vary. Growth in the USA is the most obviously impressive, which the report estimates will rise to US$104.1 billion by 2016, due to expiry of patents on major drugs such as Lipitor and Zyprexa, increased pressure for generic use from Medicare drug plans, and the gradual emergence of the biosimilar market.
Elsewhere, government efforts to promote and reward expanded generic use should continue to pay off, notably in France and Japan. The Swiss market is also performing strongly, although it is limited in size by the country's small population. Not all will do so well principally due to price cuts in the face of the economic downturn; this can be specifically seen in the Eurozone economies, even Germany, where drug tendering is having a major effect on prices. To a lesser extent it is also the case in the UK, which has one of the most competitive generic markets in the world.
The response in the generic industry has been to continue to pursue growth through merger, acquisition, and, increasingly, collaborative working with the branded industry. 2011 saw Teva acquire Cephalon among other companies, Watson continued its expansionist drive with the purchase of Arrow Group and new acquisitions of Specifar and Ascent Pharmahealth.
Equally interesting has been the activity around the branded and generic companies. Valeant Pharmaceuticals was active with its acquisition of Sanitas Group while Pfizer, previously no friend to the generic sector, has struck deals with Aurobindo, Claris Lifesciences and Teuto in Brazil.
Andrew Crofts, senior health analyst at Espicom and the report's co-author comments "The generic drugs business is being squeezed. The effects of the recession have put pressure on prices that were, in any event, marginal. In the future the increasing number of biosimilars losing patent protection will only offer potential to a relatively small number of companies who have the time and resources to leap the regulatory hurdles. The trend towards a rationalised market more in step, rather in court, with the branded industry is set to continue".
For further information on the report please visit http://www.espicom.com/wgmrpr
About Espicom
Espicom Business Intelligence is a leading publisher of medical and pharmaceutical market analysis. With over 50,000 users worldwide its reports, news services and analysis products are used regularly by key decision makers in industry, government and commerce. A full catalogue can be found on the web at http://www.espicom.com
For further information and discussions about features articles/series please contact
Victoria McVeigh
victoria_mcveigh(at)espicom(dot)com
Tel: +44 (0) 1243 756027