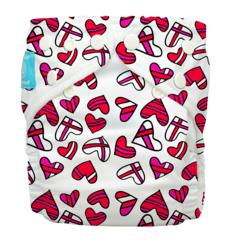 The royal couple's iconic fashion sense is the inspiration behind these gorgeous cloth diaper prints.
Hong Kong (PRWEB) April 19, 2012
Just in time for Earth Day and The Great Cloth Diaper Change, Charlie Banana rolls out "The Will" and "The Kate" – two more designs in the Charlie Banana® Fashion Collection by Matthew Langille. The international luxury brand of award-winning modern cloth diapers and eco-friendly, organic baby products, also announces its products are now on shelves in selected Target store locations.
"The royal couple's iconic fashion sense is the inspiration behind these gorgeous cloth diaper prints," said Gaëlle Wizenberg, CEO of Winc Design, Limited. "We can't wait to see little baby bums decked out in these British-looking, bright-colored diapers and swim diapers. Just darling!"
In addition, Charlie Banana® reveals it is now available at select Target locations across the country. The Charlie Banana® Fashion Collection by Matthew Langille and limited edition products collection lineup fits with Target's mission to be the place to shop for the latest, on trend style at brag-worthy prices. Charlie Banana® continues to evolve its products to include fashionable, eco-friendly/reusable items and in-demand baby products.
"Target is one of mom's guilty pleasures and we know a brand where fashion meets convenience, is the ideal spot for Charlie Banana®," said Wizenberg. "We are jumping with glee knowing Target is embracing the cloth diaper movement and helping us meet the demand for our products at a place parents already love to shop. "
"Our Target debut is on the heels of our Climate Action partnership, which is adding carbon credits to our overall 2012 eco-fabulous mission. Carbon credits are used to invest in an activity that will reduce or offset greenhouse gas emissions," said Wizenberg. "Every Charlie Banana® purchase at Target will provide not only a donation to Operation Smile, but continue to offset our production, distribution and shipping emissions."
The Charlie Banana® 2-in-1 Hybrid Cloth Diaper System is an innovative patent pending hybrid diapering system that offers a reusable, washable insert made of micro terry or disposable insert made essentially of wood pulp and lined with a luscious bamboo layer. Charlie Banana® reusable products do not contain chlorine, perfume or chemicals, which keep babies dry and rash free.
In addition to the 2-in-1 Eco Diapering System, the Charlie Banana® product collection includes Organic Wipes, Biodegradable Disposable Liners, Tote Bags, Diaper Laundry Bags, Change Pads, Mattress Pads, Baby Training Pants, Organic Cotton Underwear, Swim Diapers, Organic Cotton Baby Leg Warmers, Reusable Feminine Pads and Reusable Nursing Pads.
Charlie Banana® proudly supports Operation Smile Inc., a worldwide medical charity that changes the lives of children suffering from cleft lip, cleft palate and other facial deformities. One surgery costs as little as $240 and Charlie Banana® customers will be contributing to changing a child's life forever.
Climate Action is a social enterprise, which supports sustainable low-carbon living, and socially responsible consumer choices. The company helps fund renewable energy projects and carbon offsetting projects by offering carbon credits to individuals and businesses alike. Climate Action aims to mobilize the community to fight against climate change in order to provide a better environment for future generations.
For more information about Charlie Banana and Climate Action partnership, visit https://www.charliebanana.com/blog.asp.
For a list of Target stores that carry Charlie Banana, visit http://bit.ly/J92GRF.
Charlie Banana® products are available at http://www.target.com, http://www.babiesrus.com, http://www.amazon.com, http://www.diapers.com, http://www.charliebanana.com and many other independent worldwide retailers. Visit http://www.charliebanana.com/Find-a-Store_ep_51-1.html for more information and to find the closest retail location.
About Charlie Banana®
Established in 2010, Charlie Banana® is the international luxury brand of cloth diapers and organic baby products. Charlie Banana® was created out of love for eco friendliness, quality and design by cloth diaper industry experts with more than 12 years combined experience. The Winc Design Ltd family and children are the inspiration behind Charlie Banana® – with the desire to design products that individuals feel confident to use on their babies and themselves. For more information, contact http://www.charliebanana.com.
About Winc Design LTD.
Based in Hong Kong, Winc Design Limited is a distributor and manufacturer of cloth diaper products. Being based in Hong Kong reduces shipping cost for customers and reduces the company's carbon footprint by having manufacturing at the door. Winc Design Ltd. has been nominated as the "Earth Champion" for waste reduction in years past. Winc Design actively promotes waste reduction on a daily basis and all of products are made with care.