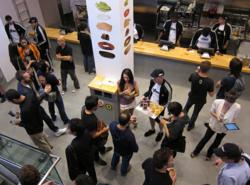 The Green Chart is a sustainable way to support the Green community. We are inviting a number of New York City's leading Green organizations to create, name, and market branded (W)holeburgers, and then donating $1 for each burger sold.
New York, NY (PRWEB) April 19, 2012
4Food, Earth's first socially networked and socially responsible quick serve restaurant company, announced today that it is co-hosting the after-party for this week's Green Festival, with UrbanGoGreen's "Greening the Culture" Campaign. The event will be held at 4food's Flagship Restaurant location at 40th Street and Madison Avenue in Midtown Manhattan on Saturday April 21st at 7PM. It marks the launch of 4food's Green Chart, a sustainable fundraising initiative, which leverages the ultra-viral success of the 4food BuildBoard Chart - which ranks burgers created and marketed by 4foodies to other 4foodies.
"We built our physical location using sustainable and energy saving materials and practices," commented Michael Shuman, Co-founder and Managing Partner of 4Food. "We produce our entire menu in-store from fresh natural ingredients supplied locally where possible and sustainably always. Our goal is that 4food become the meeting place for New York's Green community. We have developed a sustainable way for 4foodies to support the Green community, by inviting a number of New York City's leading Green organizations to create, name, and market branded (W)holeburgers, and then donating $1 to that organization for each burger sold."
Green burgers will first be offered for sale on Tuesday May 8th, and the first chart, which will be widely syndicated, will be published every Tuesday from May 15th, 2012. "Royalties" are paid to participants monthly. Organizations with federal 501(c) status or pending 501(c) status are eligible for the program.
To attend the after-party (at which sangria will flow freely) or participate, please contact Osiris James of UrbanGoGreen at Osiris(at)urbangogreen(dot)com or call 347-465-2656.
About 4Food:
We de-junk fast food™ by bringing fast, fresh, delicious, and nutritious food, made of local produce purchased at fair prices, to people of all ages, lifestyles, and ethnicities. No fads, fillers, nor anything artificial. 4food has redefined counter-culture through the use of highly adaptive social recommendation technologies and by transforming foods that people already eat into new menu items that are convenient, and almost infinitely customizable to guests' lifestyles and cultural preferences. Our signature menu item is the (W)holeburger™, a donut shaped patty made whole by a VeggieScoop center. There are billions of ways to make a (W)holeburger™ and the most successful of them are featured on the BuildBoard Chart. Partners in 4food include the founders Adam Kidron and architect Michael Shuman; Bill Niman - the founder of Niman Ranch; Dr. Woodson Merrill - the founder of Beth Israel Center for Integrated Medicine; Ed Winter - one of the foremost experts in marketing to young people in the US.