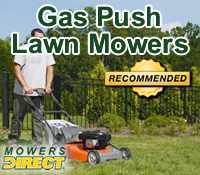 Gas push lawn mowers have been a suburban staple for decades. New push mowers feature advanced cutting systems and quick-start engines so you can cut your lawn quickly and hassle-free
Bolingbrook, IL (PRWEB) April 19, 2012
Today Mowers Direct announced its recommendations for the best gasoline-powered push mowers.
"Gas push lawn mowers have been a suburban staple for decades," said Todd Gwaltney, resident product expert at MowersDirect.com. "Over this time, there have been vast improvements in lawn-care technology. New push mowers feature advanced cutting systems and quick-start engines so you can cut your lawn quickly and hassle-free."
Top Gas Push Lawn Mowers
Good: Husqvarna 6021P (21") 149cc 3-In-1 Push Lawn Mower
Better: Husqvarna 7021P (21") 160cc Honda 3-in-1 Push Lawn Mower
Best: Snapper 217020B (21") 190cc HI-VAC 3-In-1 Push Lawn Mower
According to Gwaltney, most retailers are loyal to whatever is on their shelves.
MowersDirect.com, however, isn't your ordinary retailer. The online superstore specializes exclusively in lawn mowers and lawn tools and carries more than a 400 models from leading brands such as Husqvarna, Toro, Honda, Ariens & Snapper.
The online retailer combined recent sales history, customer reviews and personal insight to generate their final recommendations.
Once the dust and data settled, only 3 gas powered push lawn mowers sold by MowersDirect.com were given its prestigious "Recommended" status.
In addition, Gwaltney personally wrote online reviews for each gas push lawn mower, explaining why the company recommended it.
By providing the recommendations and reviews, MowersDirect.com hopes to arm shoppers with enough ammunition to pick the perfect gas powered push lawnmower for their needs.
Power Equipment Direct operates 10 niche online superstores. In addition to MowersDirect.com, the Bolingbrook, IL-based company operates AirCompressorsDirect, ChainSawsDirect, ElectricGeneratorsDirect, LogSplittersDirect, PressureWashersDirect, SnowBlowersDirect, SumpPumpsDirect, TillersDirect and WaterPumpsDirect.