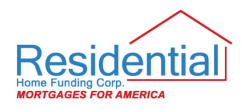 Our approval reflects on the quality of our company and the professionalism of our employees...we are excited to begin this relationship.
Parsippany, NJ (PRWEB) April 20, 2012
Residential Home Funding Corp. (RHF), a New Jersey-New York and Pennsylvania based mortgage lender announced today that it has been granted approval by the Federal National Mortgage Association (Fannie Mae) to be a Fannie Mae seller-servicer, effective immediately.
Fannie Mae approval is granted after an exhaustive application process that includes, among other things, a review of quality control and quality assurance guidelines to determine that a lender has the proper internal controls to assure proper loan origination, processing, underwriting and closing practices. RHF began the application process in October 2011 and received its formal notice of approval in March. RHF will now have the opportunity to sell loans to FNMA and also retain servicing rights which it will manage in conjunction with an agreement with LoanCare.
David Stein, Chief Operating Officer at RHF stated: "We are proud and excited to begin a strategic relationship with Fannie Mae. Our approval reflects on the quality of our company and the dedication and professionalism of our employees. It provides our mortgage bank with the opportunity to offer even better services to our customers. We look forward to a long and mutually beneficial relationship with FNMA."
Residential Home Funding Corp. is a full service mortgage banker licensed in CA, CT, CO, DC, DE, FL, GA, IL, MD, NC, NJ, NM, NY, PA, SC, and VA. The lender offers a wide array of mortgage products, competitive rates and employs some of the most talented and dedicated employees in the industry. In addition to being a FNMA approved seller/servicer, Residential Home Funding Corp. also originates FHA and VA loans, including FHA 203K loans, and has a dedicated reverse mortgage division.
For more information about RHF please visit http://www.rhfunding.com.