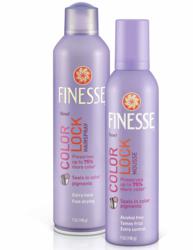 New York, NY (PRWEB) April 19, 2012
Famed hair care brand, Finesse, announces the launch of the new Finesse Color Lock Styling products. The new Finesse Color Lock range offers a new advanced system to get longer lasting color as part of your regular home styling routine. Finesse Color Lock styling products contain a revolutionary, patented polymer system with water resistant, film forming properties. The polymer sets your hair style, and also helps seal in hair color pigments, allowing hair to retain up to 75% more color through repeated shampooing.* The results are longer lasting, more vibrant hair color that is easily achieved through the use of hair care products already existing in many women's daily routines.
Women love beautifully colored hair, however coloring your hair requires a big investment of time and money. And while most women want the results, many despise the process. Women try to make their hair color last as long as possible to lengthen the time between color treatments, fighting the natural course of regular washing and styling that robs hair of color pigments. As a result, the number one complaint from women who color their hair is that color doesn't last as long as they would like it to. A national survey conducted by Lornamead Inc. found that more than 3 in 4 women who color their hair feel this way regarding the life of color in their hair.**
"We've taken the latest in color saving technology and formulated it into high quality styling forms that women are already using every day." said Randy Sloan, President, Lornamead Inc. "Women who use Color Lock will get what they want most – longer lasting hair color and beautifully styled hair – without having to add any extra products to their daily regimen."
Finesse Color Lock Styling Aids can be found nationwide starting in April 2012 at food, drug and mass merchandisers at a suggested retail price of $3.99:

o Alcohol Free
o Tames Frizz
o Extra Control
Color Lock Hairspray, 7 oz.
o Extra Hold
o Fast Drying
Up to 75% more color retained in hair after 10 washes.
** Source: Lornamead survey of nationally representative sample of women ages 35 to 55, n=750.
About Finesse
Finesse has been a favorite hair care choice of women for almost 30 years, reliably delivering beautiful hair and a fresh fragrance no matter how the styles and trends have changed. The Finesse family of hair care products now includes Finesse Self Adjusting Formulas for consistently beautiful hair, and Finesse Clean + Simple, hypoallergenic hair care for those with sensitive skin. Finesse is found nationwide at drug, food and mass merchandisers.
About Lornamead Inc.
Lornamead Inc. acquires and builds brands with rich consumer heritage in the hair care, skin care, oral care and bath luxury categories, revitalizing well-known and trusted names. In this hemisphere, the company is best known for its Finesse, AquaNet and Lice Shield hair care products; Yardley of London luxury bath products; and LypSyl lip balms. Lornamead Inc. is one of five subsidiary companies of The Lornamead Group. The private U.K.-based parent company boasts a presence in over 50 countries, with 36 well-known and trusted brands, with some of these brands having a heritage dating back 230 years.
Media Contact:
Emma Garner / Amanda Reinstein
Bratskeir & Company
212.679.2233
egarner(at)bratskeir(dot)com / areinstein(at)bratskeir(dot)com